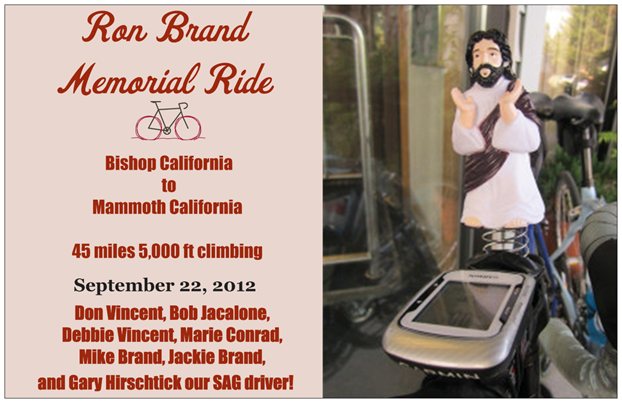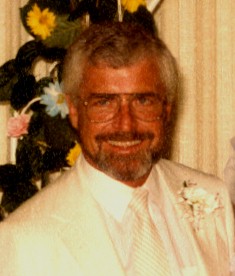 Ron Brand



To celebrate Ron Brand's life, we (Ron's children) decided to have a memorial cycling event. Ron loved to take his sons, Mike and Don to Lake Crowley which is near Mammoth California for a yearly fishing trip. After years of fishing trips, they (Ron, Mike, and Don) decided to try to cycle from Bishop, CA. to Mammoth, CA, and return to Bishop the next day. They completed this endeavor twice (in the 1980's). This is the route that was chosen to be the Ron Brand Memorial Ride.

This is my (Jackie Brand) personal account and photos of the Ron Brand Memorial event.

Mike and I started to train Don, Debbie, Bob, and Marie in January 2012 from scratch, we got them bicycles, taught them bicycle handling skills, and rode every Sunday locally to prepare for this trip. They all worked very hard to prepare... let's see what happeded.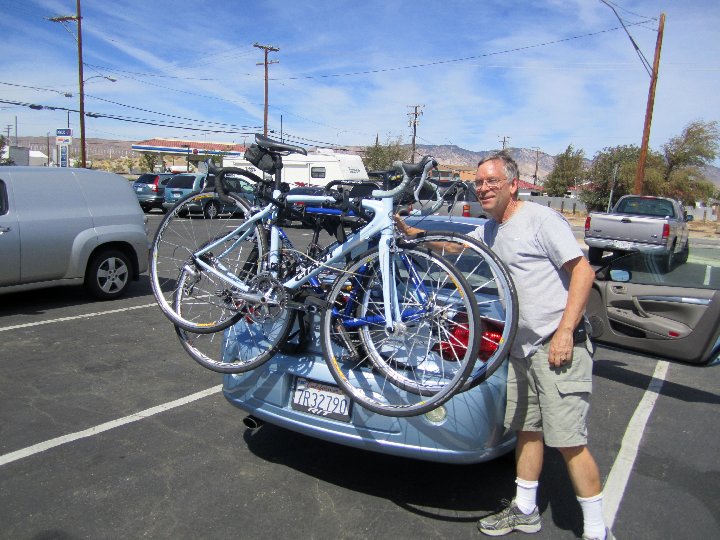 Friday Sept. 21, 2012 Mike and I loaded the bikes and started off to Bishop.
We had a hotel reservation in Bishop, the other members of our group stayed in a condo in Mammoth.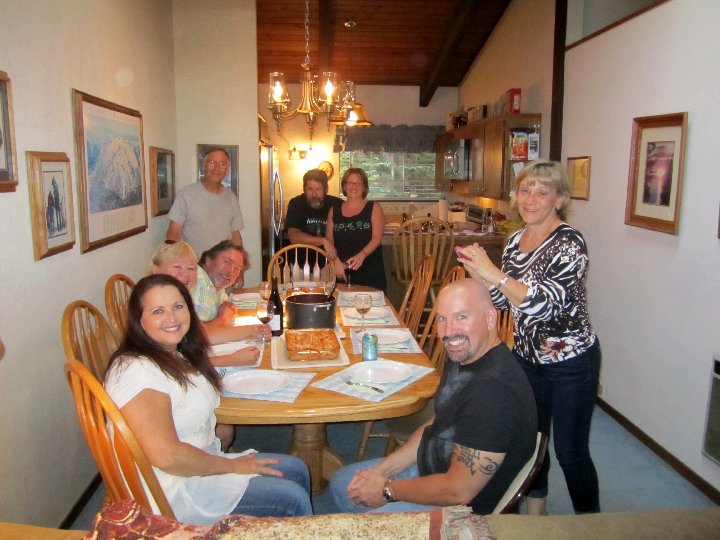 Friday night dinner was hosted by Roseanne and Bob in their Mammoth condo, they served a "killer" pasta meal. Don presented each of us with a gift of a plastic Jesus. I know you are thinking, what is with the "plastic Jesus"... One of Ron's favorite songs came from a movie "Cool Hand Luke". There was a song from that movie that Ron loved to sing "I don't care if it rains or freezes, Long as I have my plastic Jesus, Riding on the dashboard of my car..." . We all had a plasitc Jesus for our bicycles. Paul Newman sings "Plastic Jesus" Click here to hear the song.

After dinner Mike and I headed back to Bishop to our hotel. The next morning we left to meet our group at the Von's parking lot, we had to be there by 7:00 AM. Before leaving to meet with our group, we had a beautiful breakfast at the hotel.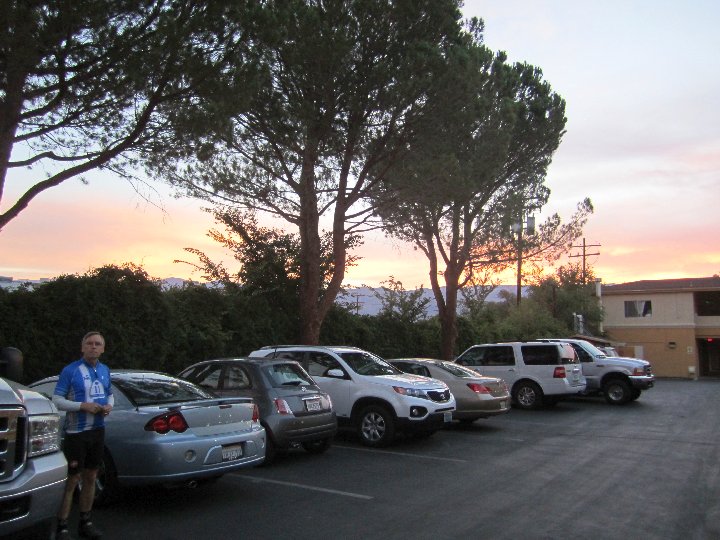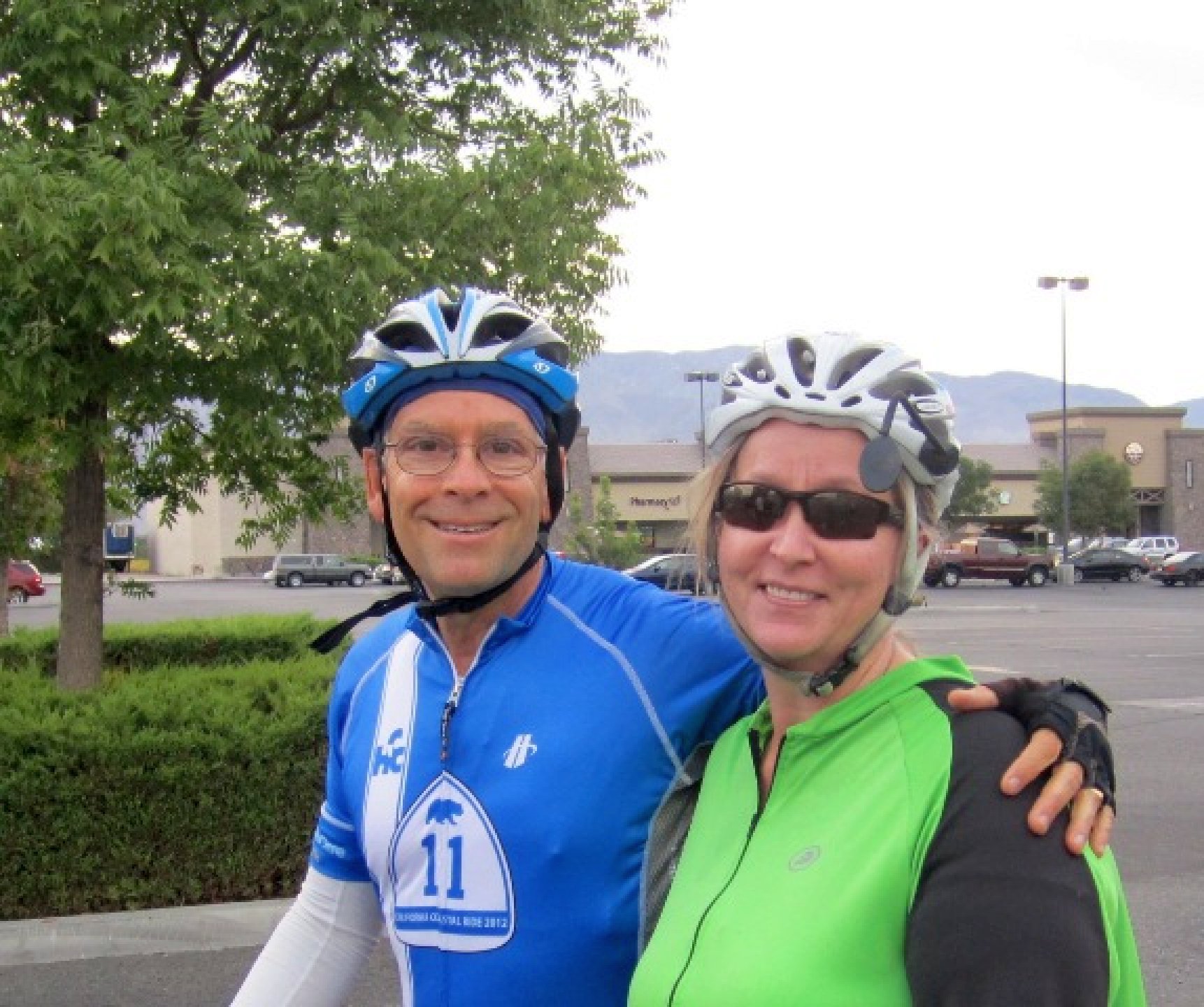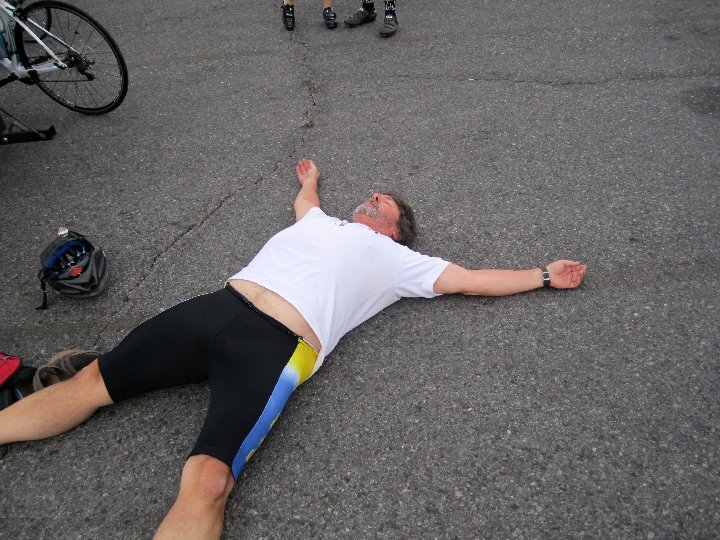 Beautiful sunrise Mike and Jackie in parking lot Don resting before the ride.

By the time we got to the parking lot, the gang was all there. Almost ready to go....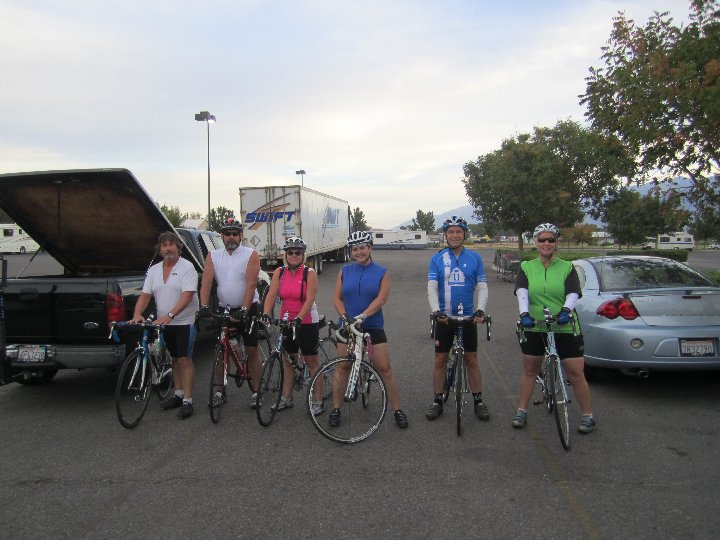 One last photo...time to get riding! Leaving Bishop on Highway 395 headed north.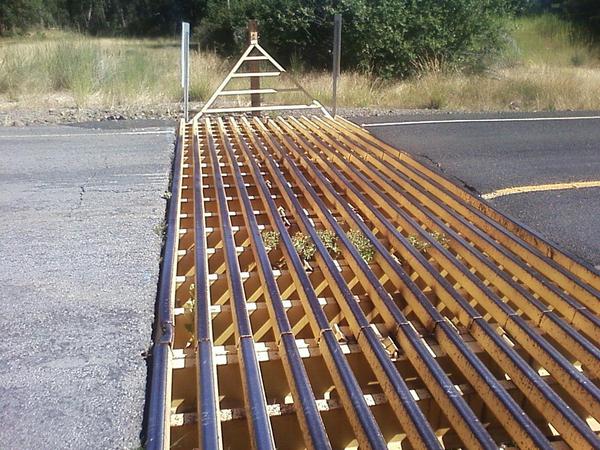 Don saying good bye to Highway 395 for awhile. We turned onto a frontage road and had to cross our first cattle crossing. Hang on, what a ride!
This frontage road let us off on Rock Creek Road where we had to cross Hwy 395, we are now headed out to Paradise, CA.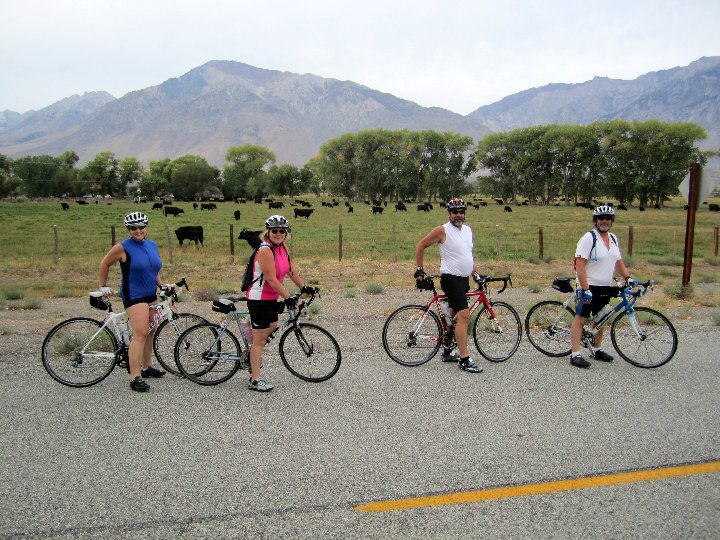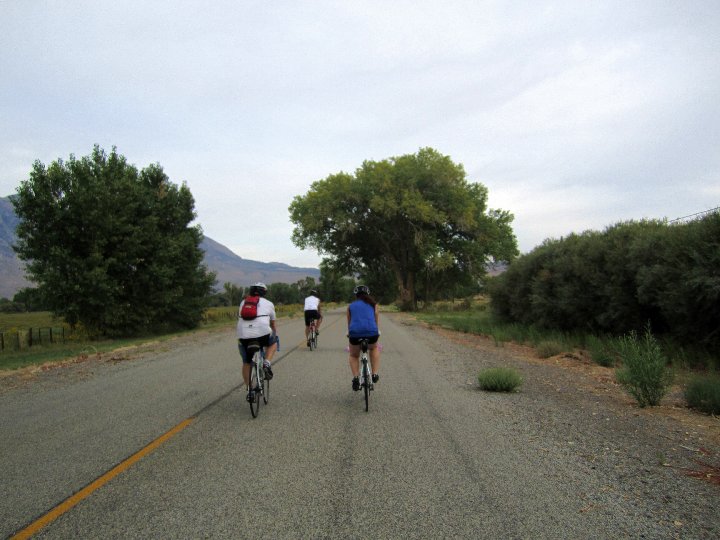 Marie, Debbie, Bob, and Don. Rock Creek Road was beautiful, lots of cows and horses...this is where we started to climb.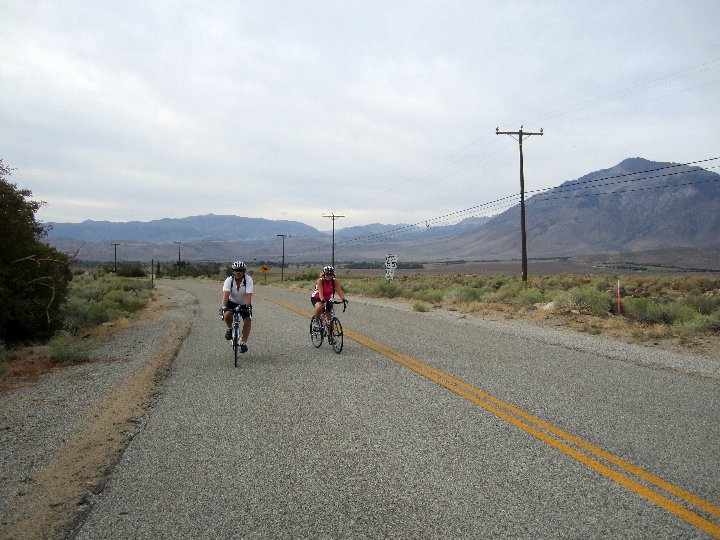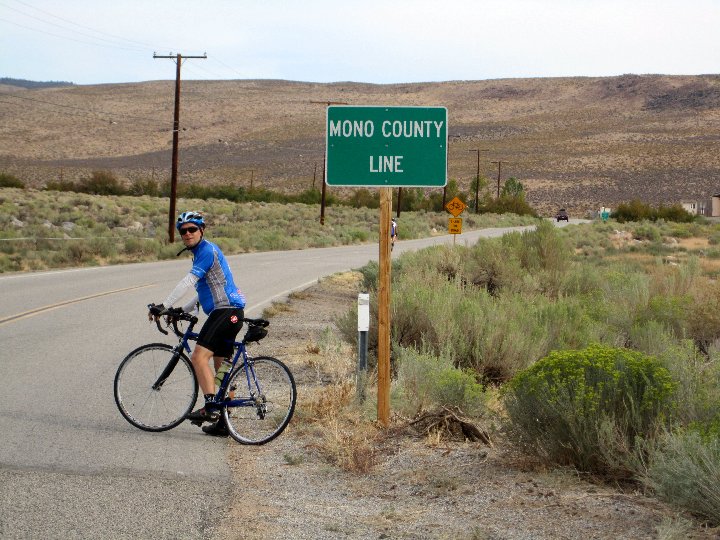 Don and Debbie enjoying the ride Mike: Entering Mono County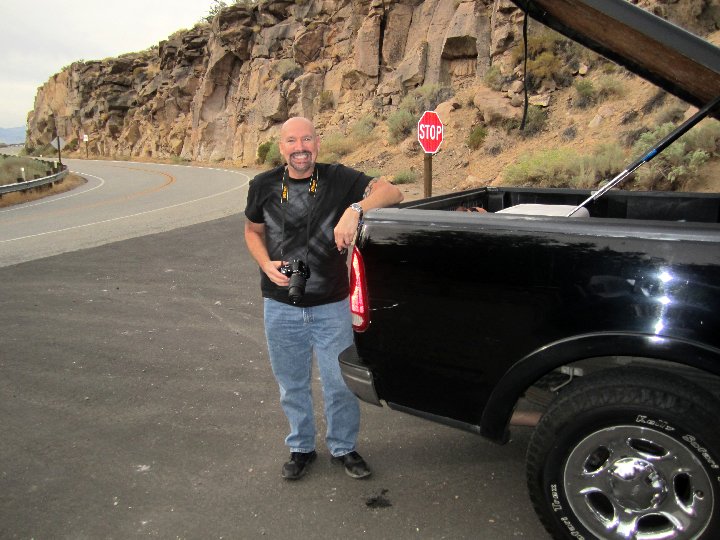 This is Gary (Marie's boyfriend), our SAG (Support and Gear) driver. Couldn't do this without him. First rest stop... look behind Gary in the photo, Sherwin grade starts here, the real climbing begins.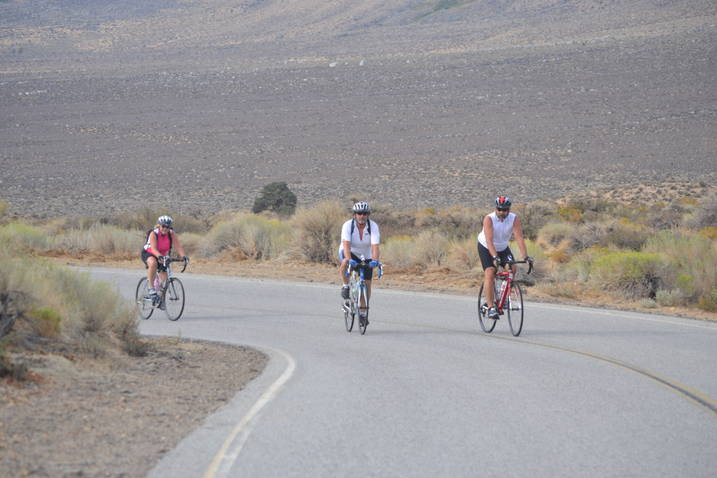 Debbie, Don, and Bob climbing Sherwin Grade This road has many switchbacks up the mountain.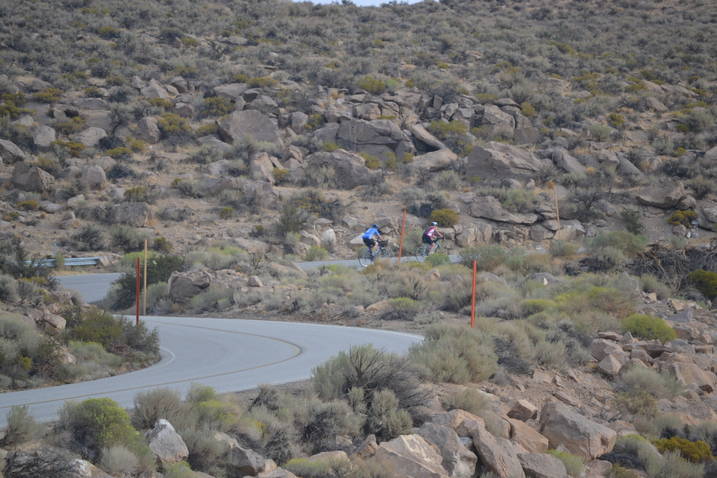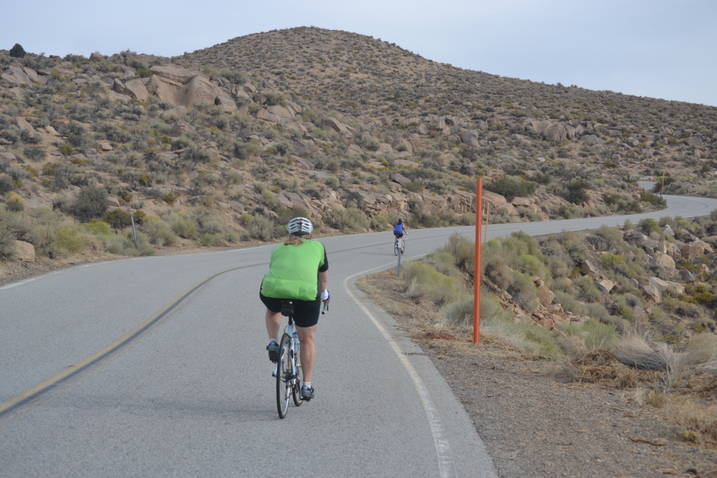 Mike and Debbie climbing. Further up the climb I take off to catch Marie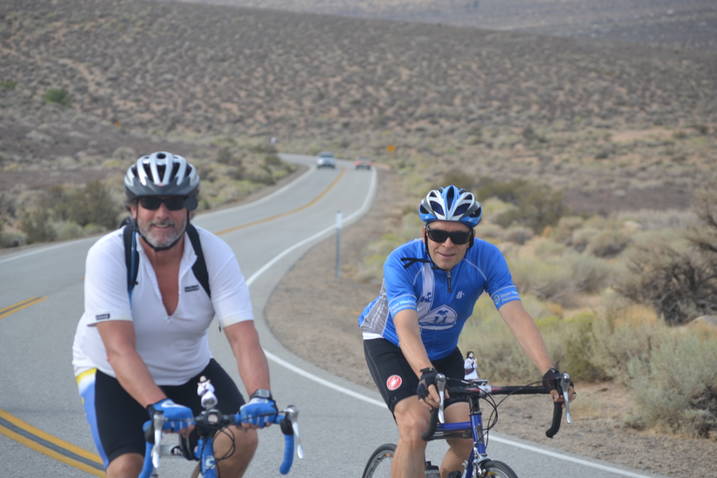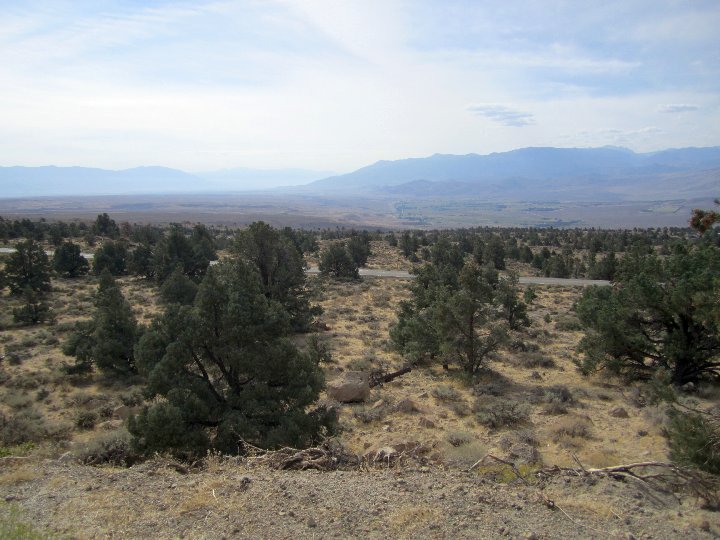 Don and Mike on Sherwin Grade I am about 1/2 way up the grade by myself, peaceful and quiet...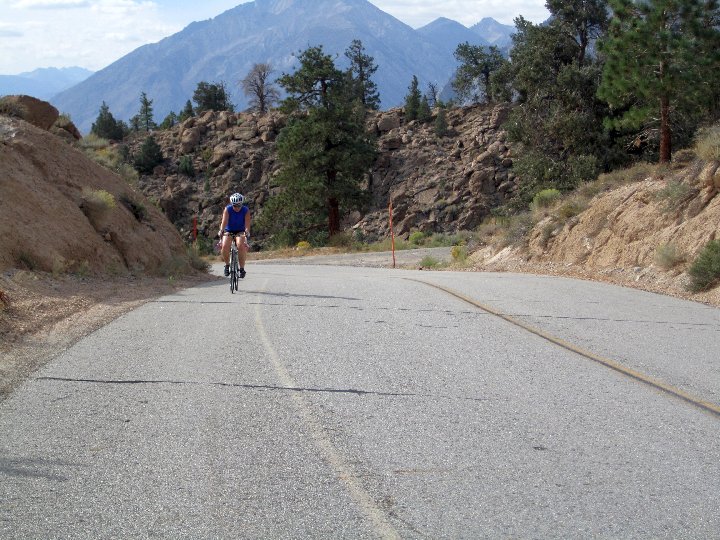 Marie makes it to the top of Sherwin Grade.
Once at the top (4.3 miles of serious climbing) there is a "steep" descent of .7 mile.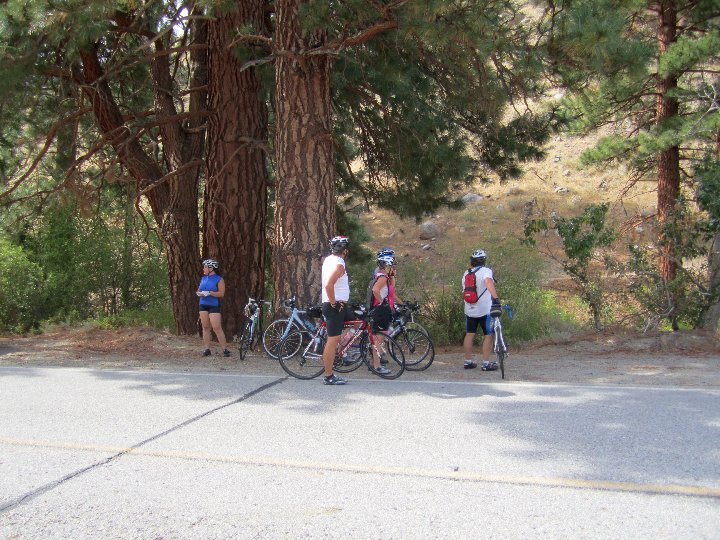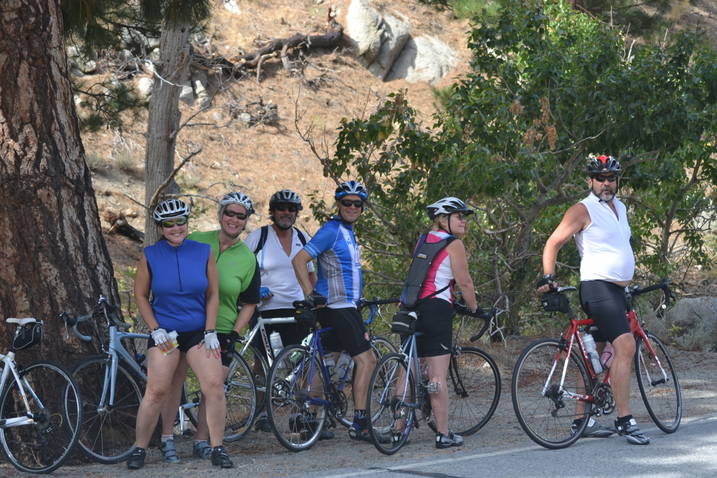 Bottom of the descent..beautiful redwood trees and a stream, a well deserved break.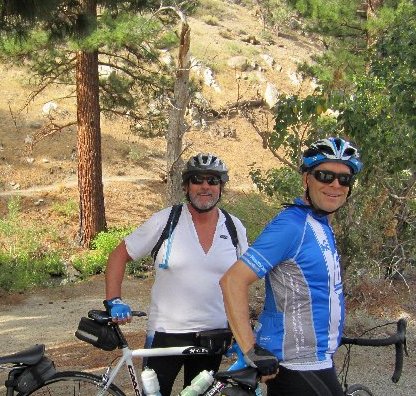 Don and Mike

On to Tom's Place! We still had a 2.8 mile climb to 395. At highway 395, 1 mile from Tom's Place Debbie asked to be SAGGED in.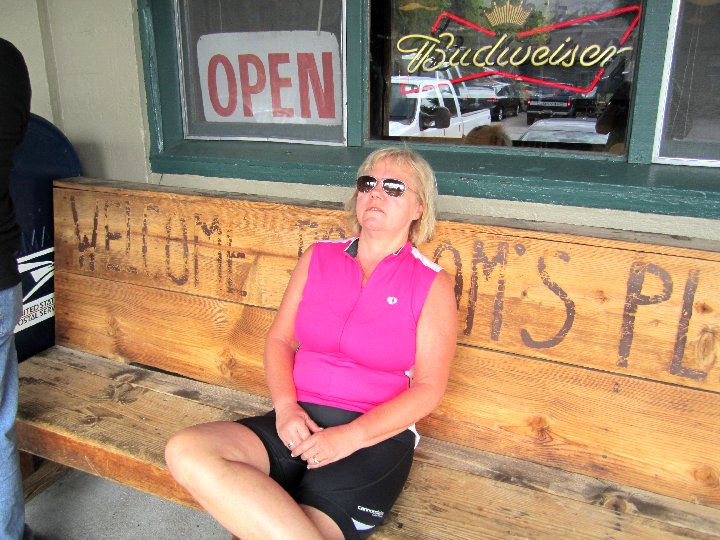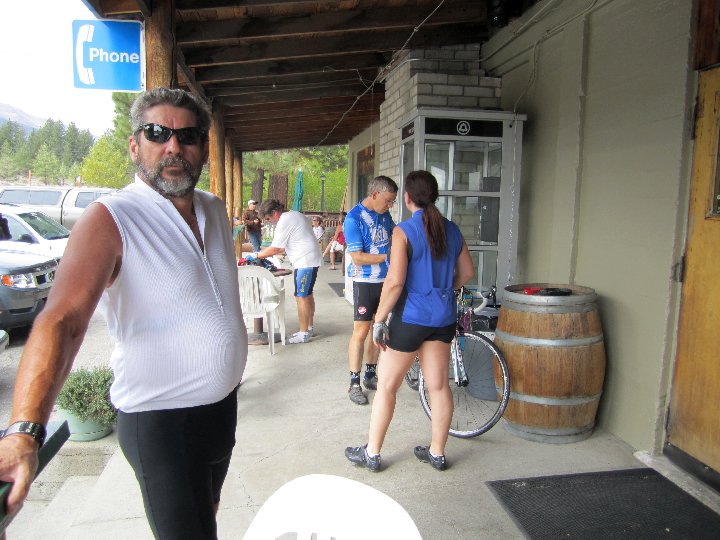 Debbie taking a well deserved rest at Tom's Place Bob at Tom's Place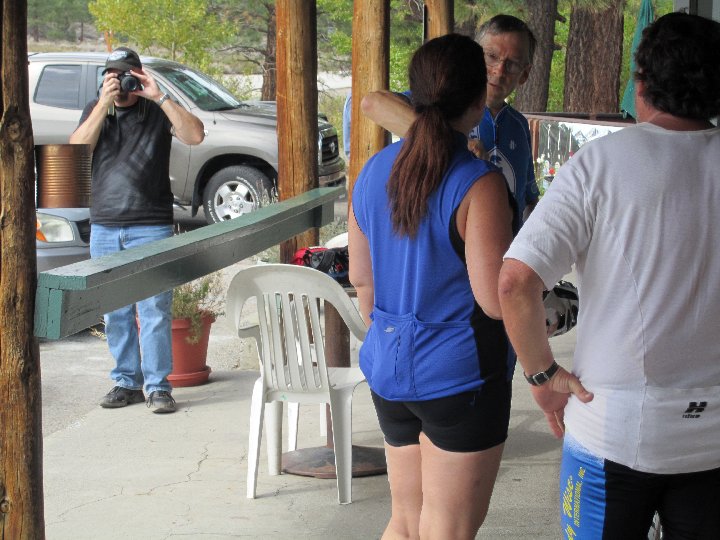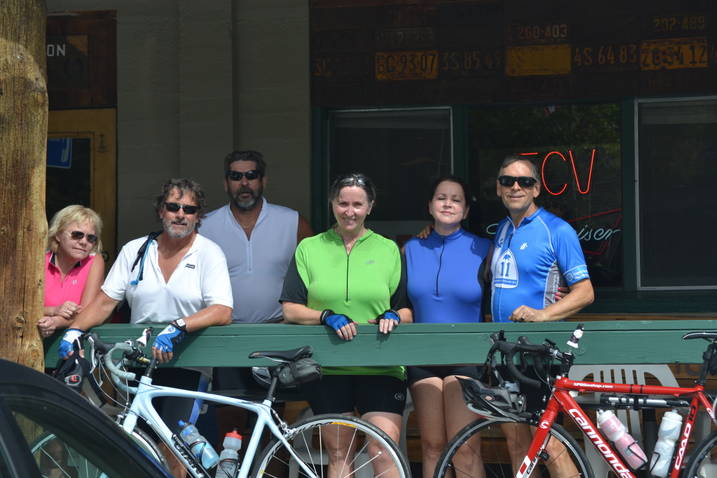 Tending to Marie's bike, having trouble clipping out. Group photo at Tom's Place. The hard climbing is completed, time for lunch.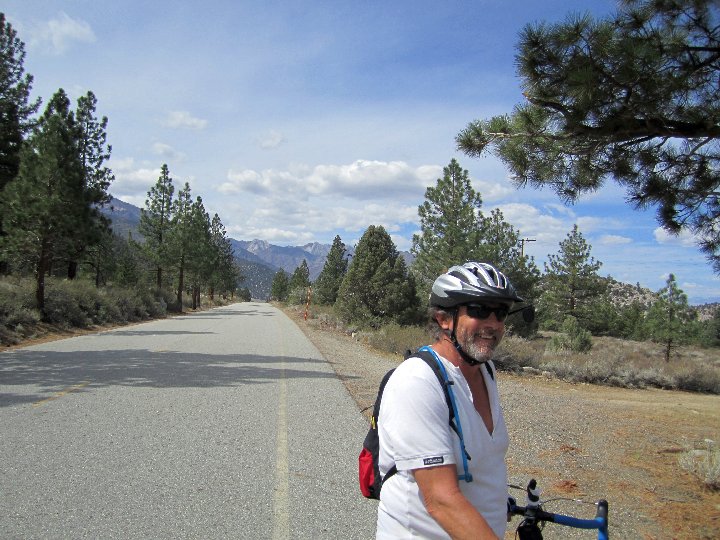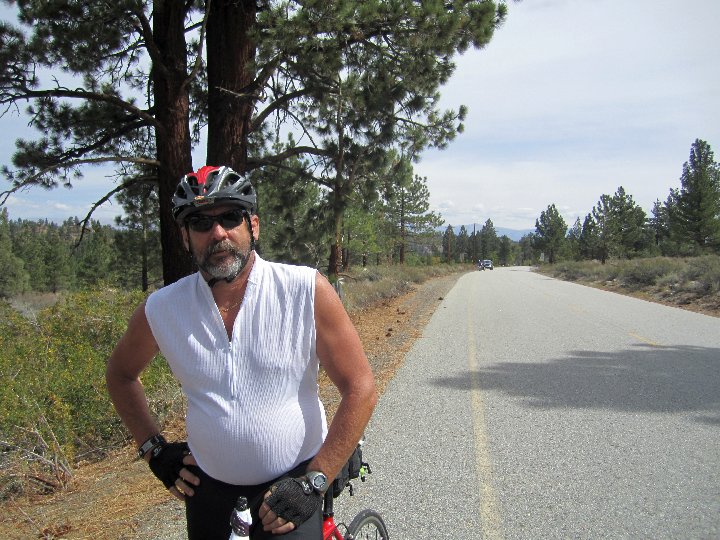 After leaving Tom's Place, Marie had a problem with the clip on her shoe, it needed to be tightened, we waited and took photos.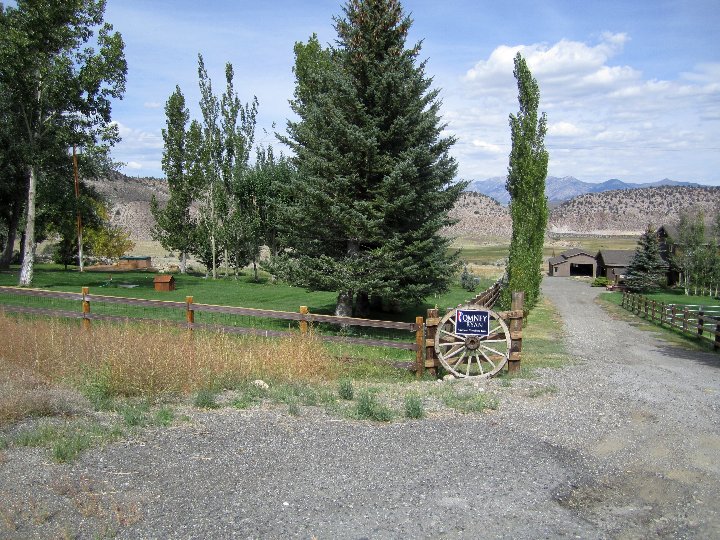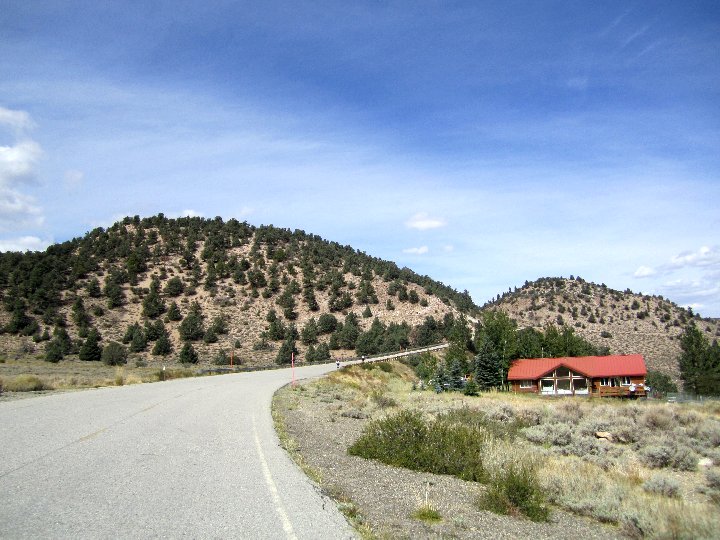 Beautiful ranches and a Llama farm. Bob and Don just in front of me..I know I can catch them up this
climb, but I dropped my chain at the driveway of this home.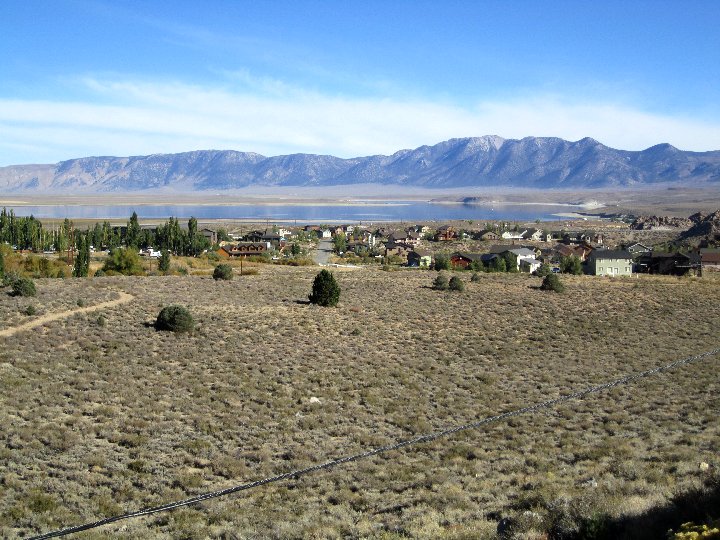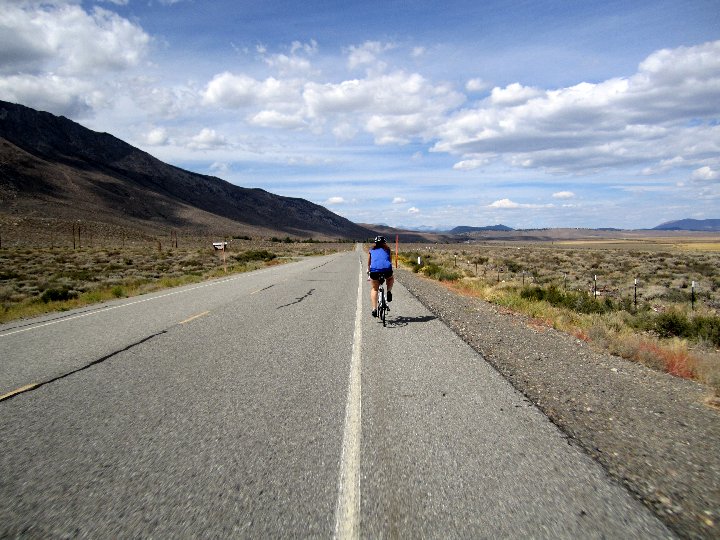 View of Lake Crowley at the top of the climb Marie leading us to Highway 395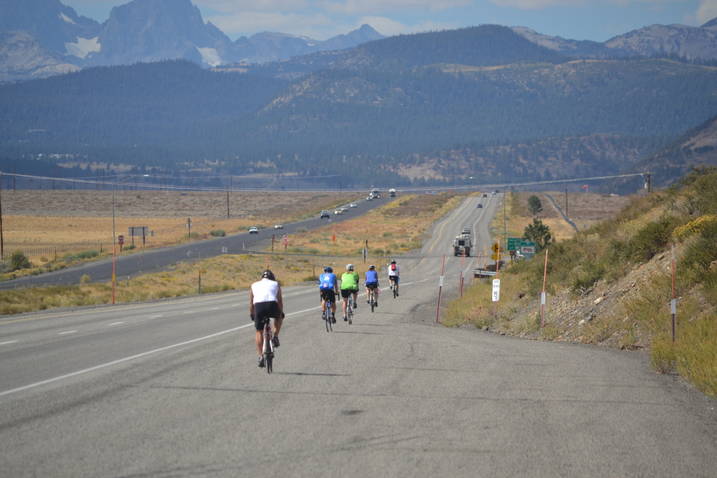 Back on Highway 395, Don leading, Marie, Jackie, Mike, and Bob.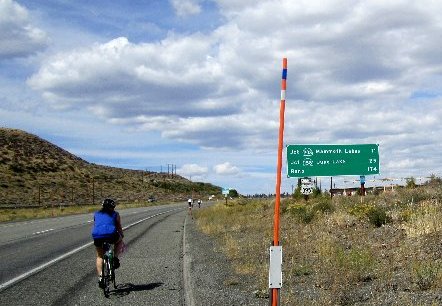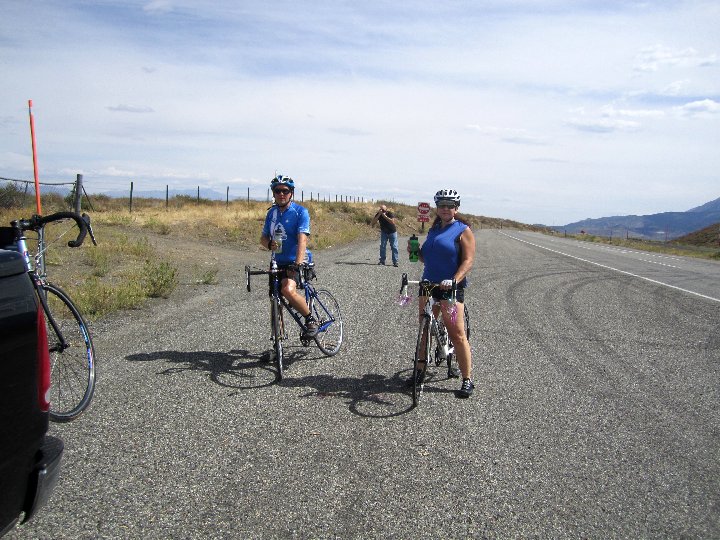 11 miles to Mammoth cut off Hwy 203 Rest stop, 5 Miles to cut off.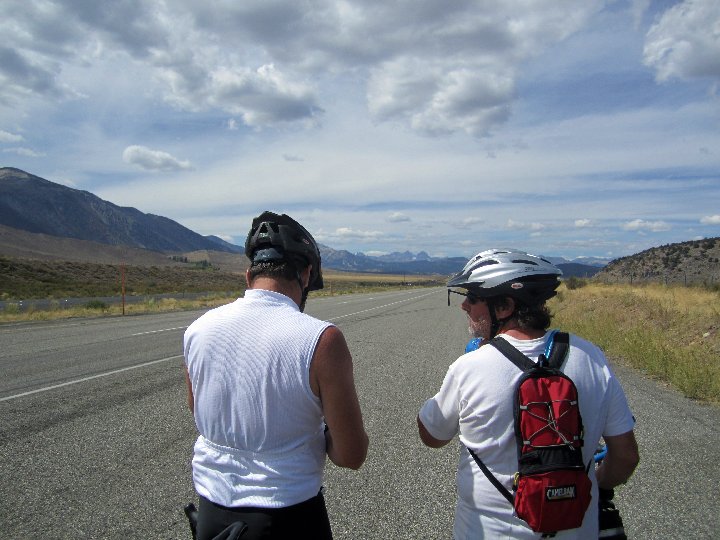 Mammoth in site. The frontage road cut off just a few miles ahead.
The last 5 miles are all up hill with a strong head wind (at close to 8,000 feet elevaton).
At this point Marie asked to be SAGGED in.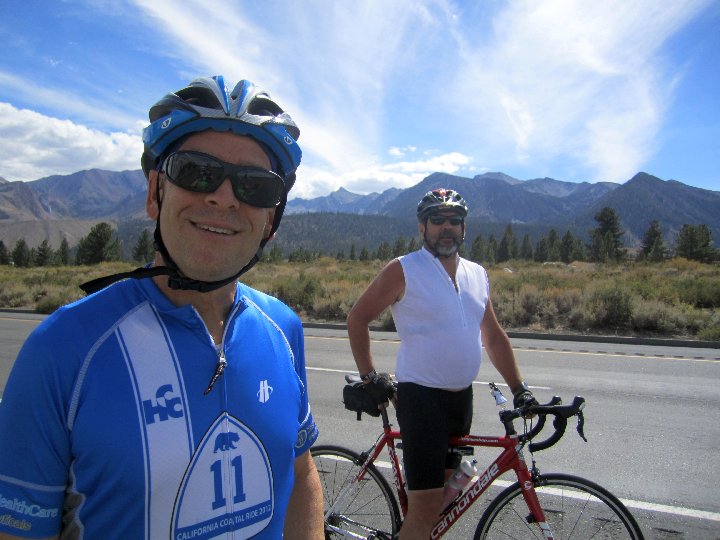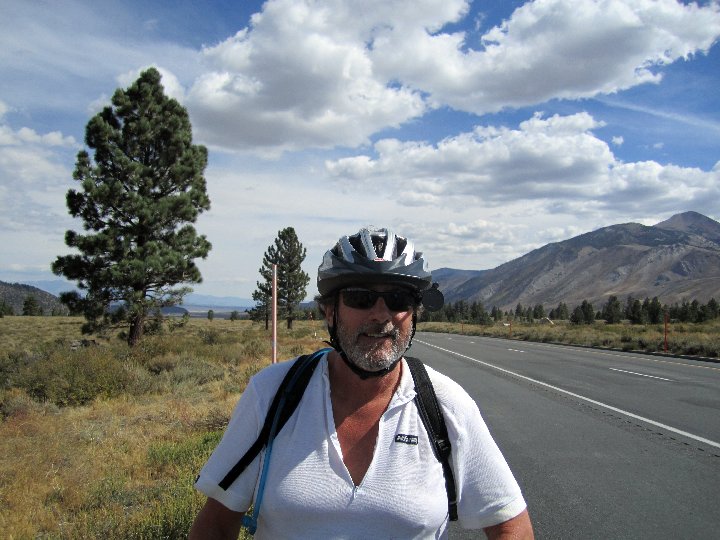 Mike and Bob on Hwy 203, less than a mile from Mammoth Don (Jackie taking photo) on Hwy 203 less than a mile from Mammoth

We will ride into Mammoth together as a group! Debbie, Marie and Gary were there to meet us...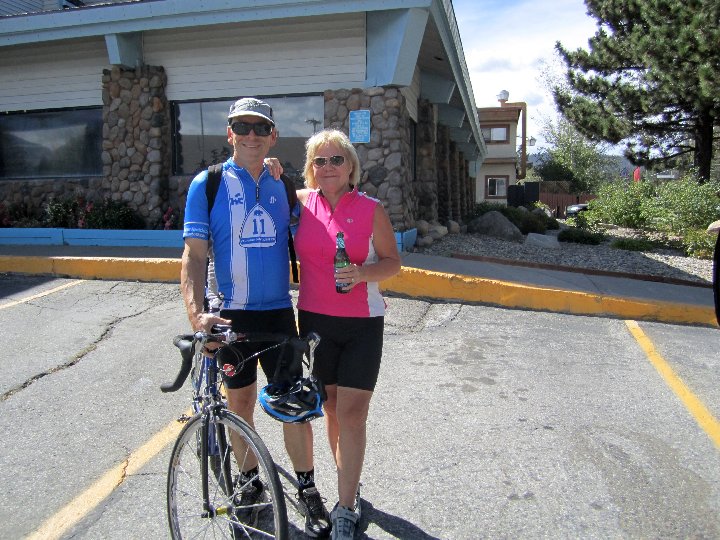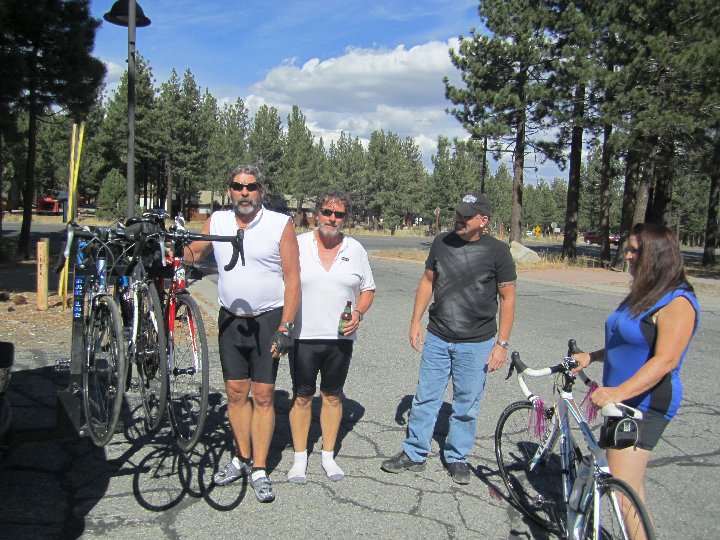 Mike and Debbie at Mammoth! Bob, Don, Gary, and Marie in Mammoth!

WE DID IT, EVERYONE GAVE IT THEIR ALL. LOOK AT HOW FAR WE HAVE COME IN JUST 9 MONTHS, FROM NOT RIDING AT ALL TO TAKING ON THE SHERWIN GRADE.... MIKE AND I ARE VERY PROUD OF YOU ALL! AND I KNOW RON IS HAVING A GOOD LAUGH, AND I AM SURE HE IS PROUD TOO... "I DON'T CARE IF IT RAINS OR FREEZES..."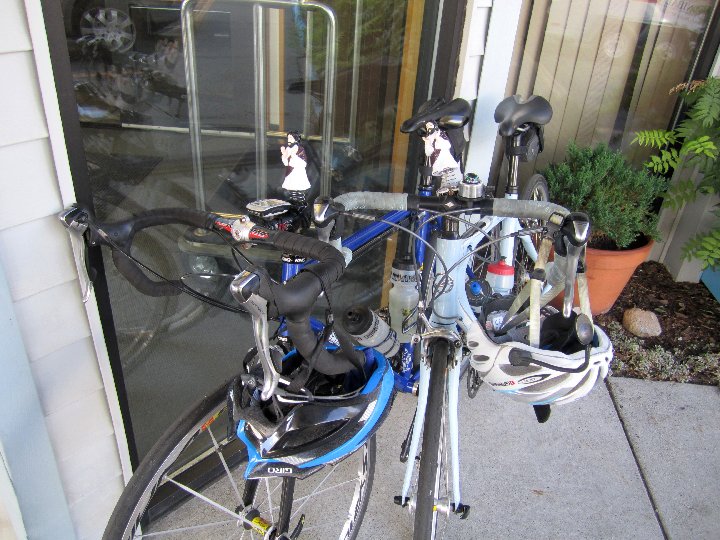 Mike and Jackie's bikes, this is our ride back to Bishop tomorrow morning. Mike and I are riding solo tomorrow, iIt is not over yet for Mike and I. We stayed at the Shilo Inn.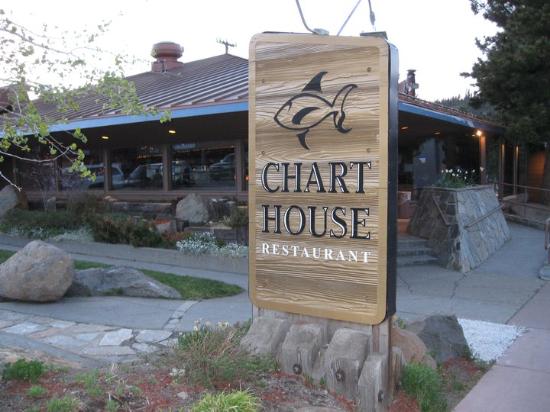 Our group dinner celebration was at the Chart House in Mammoth, just a few doors down where Mike and I are staying. Mike and I spilt a prime rib, and we each had a salad bar. Mike made a toast congratulating our group, and remembering Ron. We had to make it an early evening, had to get up early to ride back to Bishop in the morning. Don offered to SAG for us on Sunday, we said yes, that way we would not have to carry our backpacks all the way to Bishop.

Sunday September 23, 2012

Return trip: Mammoth to Bishop
45 miles
Mike and Jackie Brand
Don Vincent: SAG Driver

Mammoth; woke up at 6:45 AM, another beautiful sunrise. Had a nice breakfast at the hotel, called Don and let him know we were leaving at 8:00, he would meet us on the road. Before starting Mike noticed that his tire was low, he decided to change it when we met up with Don. Getting to highway 395 was all down hill. We were on the highway for about 5 miles before we turned on Crowley Lake Drive for a return to Tom's Place. Don has not caught up to us yet.



Once we made our turn, we called Don to let him know where we were.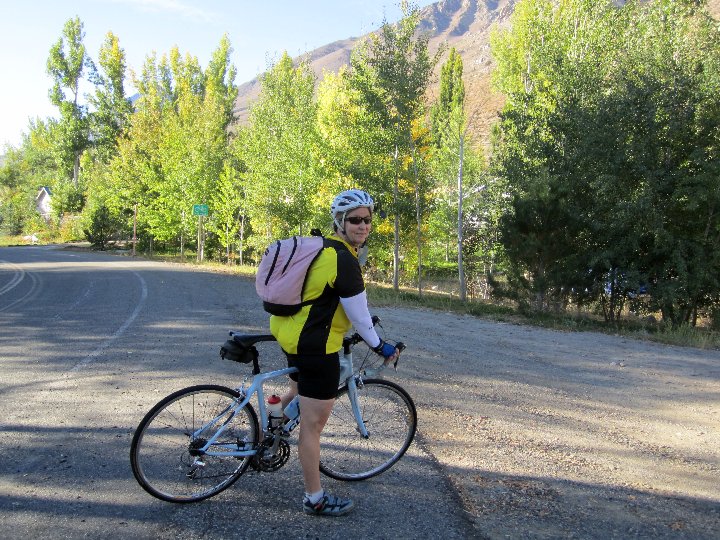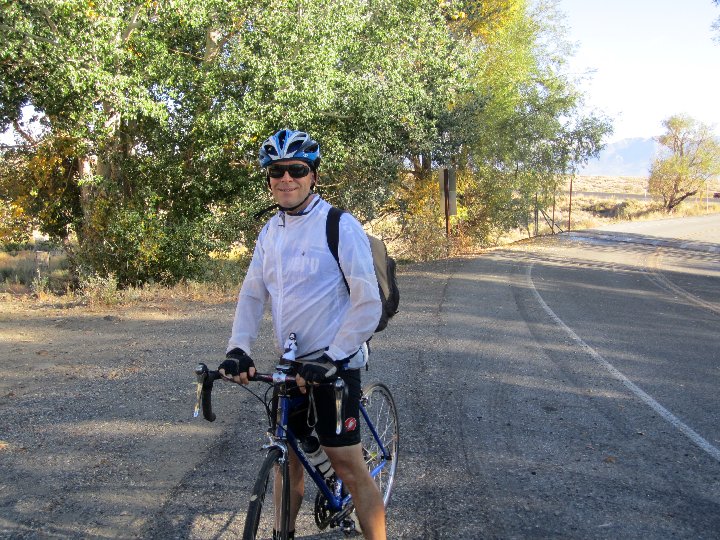 Jackie with her backpack Mike with his backpack.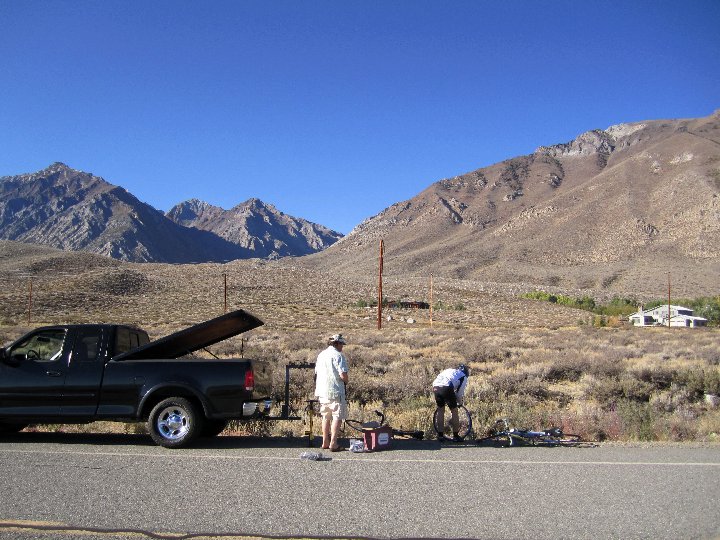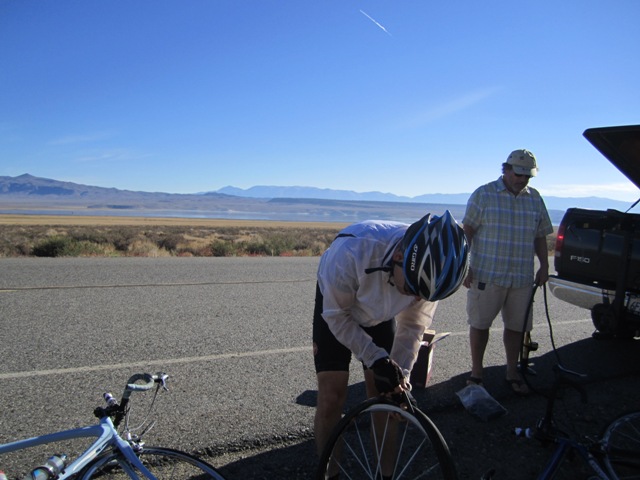 Don caught up to us before the first climb. Mike found a wire in his tire, at this time he decided to put on the new tire and tube. Lake Crowley is
in the background.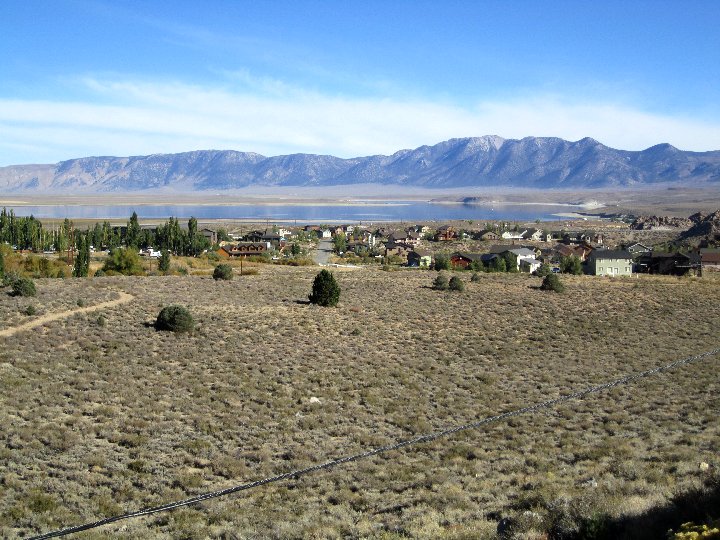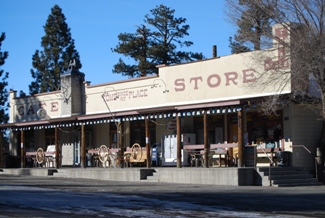 Our first climb, Lake Crowley is below. Rode past Tom's Place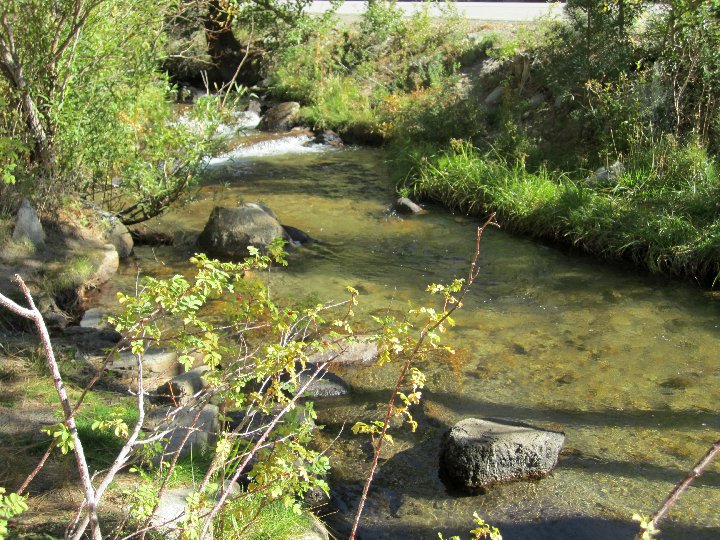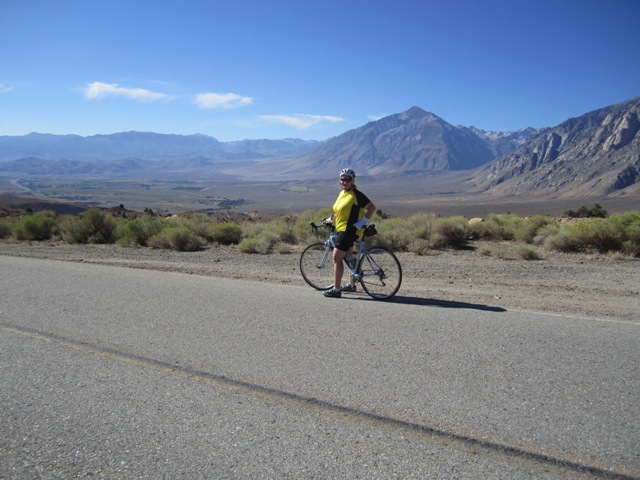 Before our next climb to the top of Sherwin Grade, Mike stopped to take a photo of the stream. During the climb Jackie got stung by a bee.
Jackie at the top of Sherwin Grade, it is all down hill from here.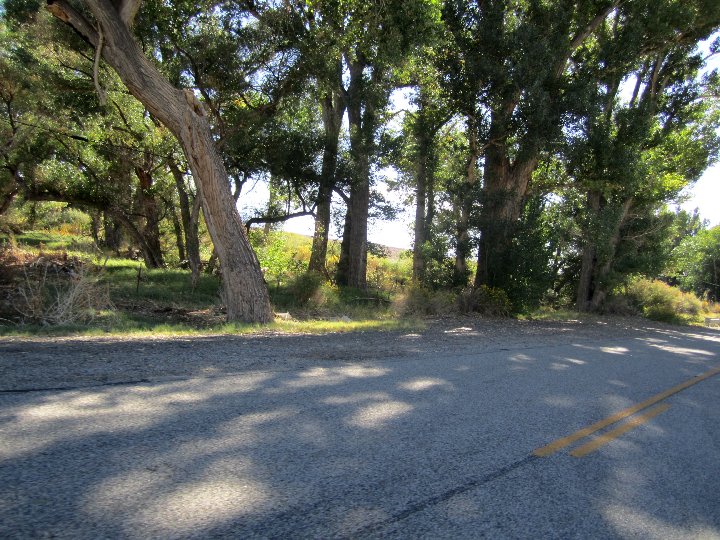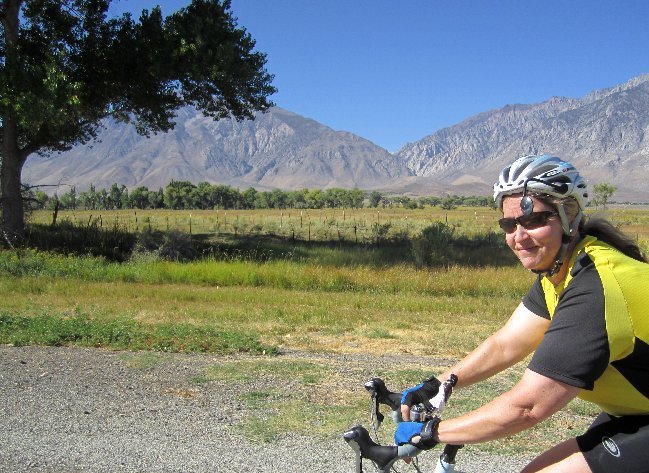 Down on the valley floor, the scenery was breath taking, not a cloud in the sky.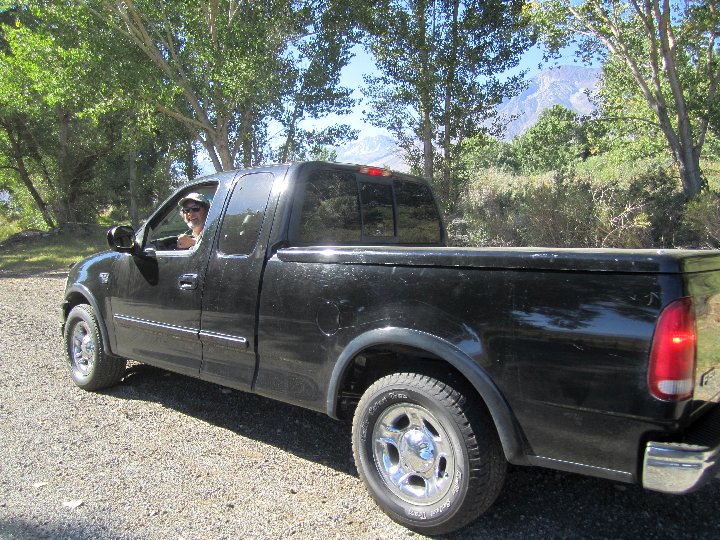 Cattle farms Don, our SAG driver for the day!! Thanks Don!

Went up 395 to Bishop. Saw Marie and Gary on the way, we stopped to say hello and good bye. We made it to Bishop by 11:00 (we beat the heat).
Now for the drive back home...

This was a wonderful trip. Thank you everyone for your support!!