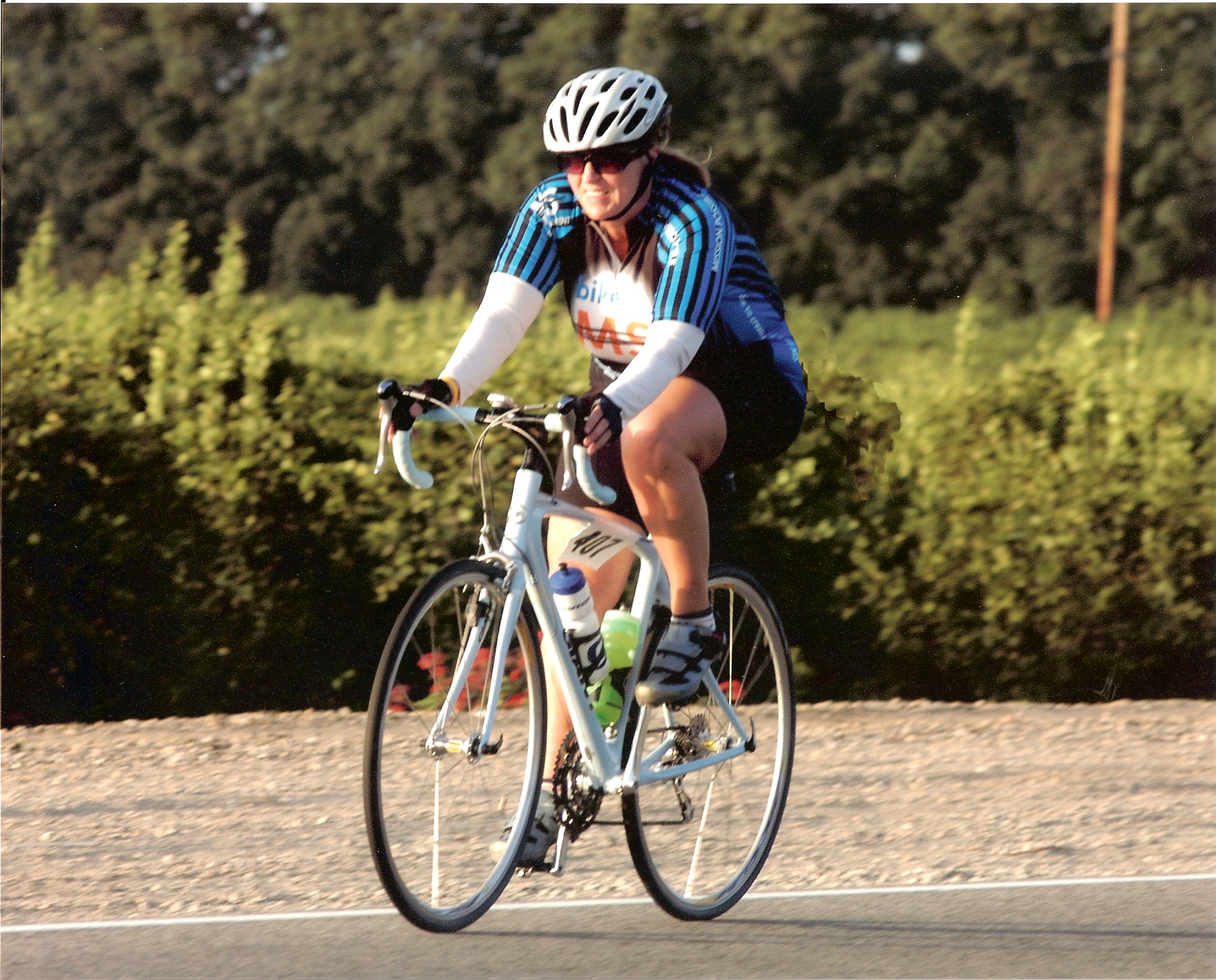 I want to thank everyone for their support for my MS 160 mile cycling event. I did it! All 160 miles. Raising nearly $1,000 for MS.
Here is a recap of the two day event.
Day 1, October 3rd.
Got up at 5 AM, had my normal pre-ride meal which is coffee and a Balance Bar. I already had the car packed, my bike, shoes, helmet, sun glasses, water bottles and the directions on how to get there. I left the house at 6:00, it was still dark. Driving toward Ventura from Thousand Oaks, the full moon was just ready to set in the west, it was beautiful. I was really nervous, not knowing where I was supposed to be, but I did have my "goggle map" in hand. I pulled into the parking lot at 6:45, the event started at 7:30. The place was packed (over 1700 cyclist). I found Mary, my client who has MS. She had volunteered to work the event.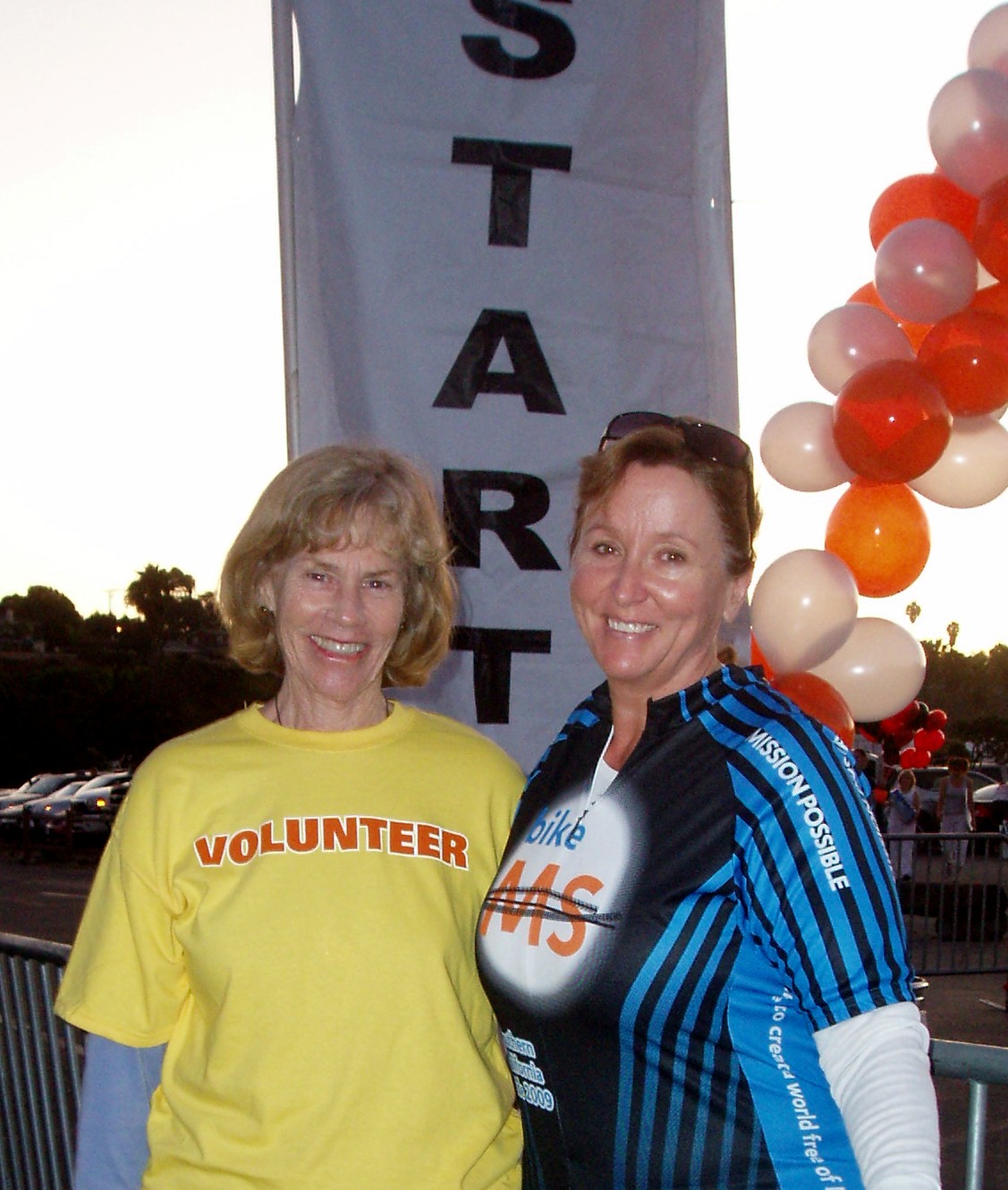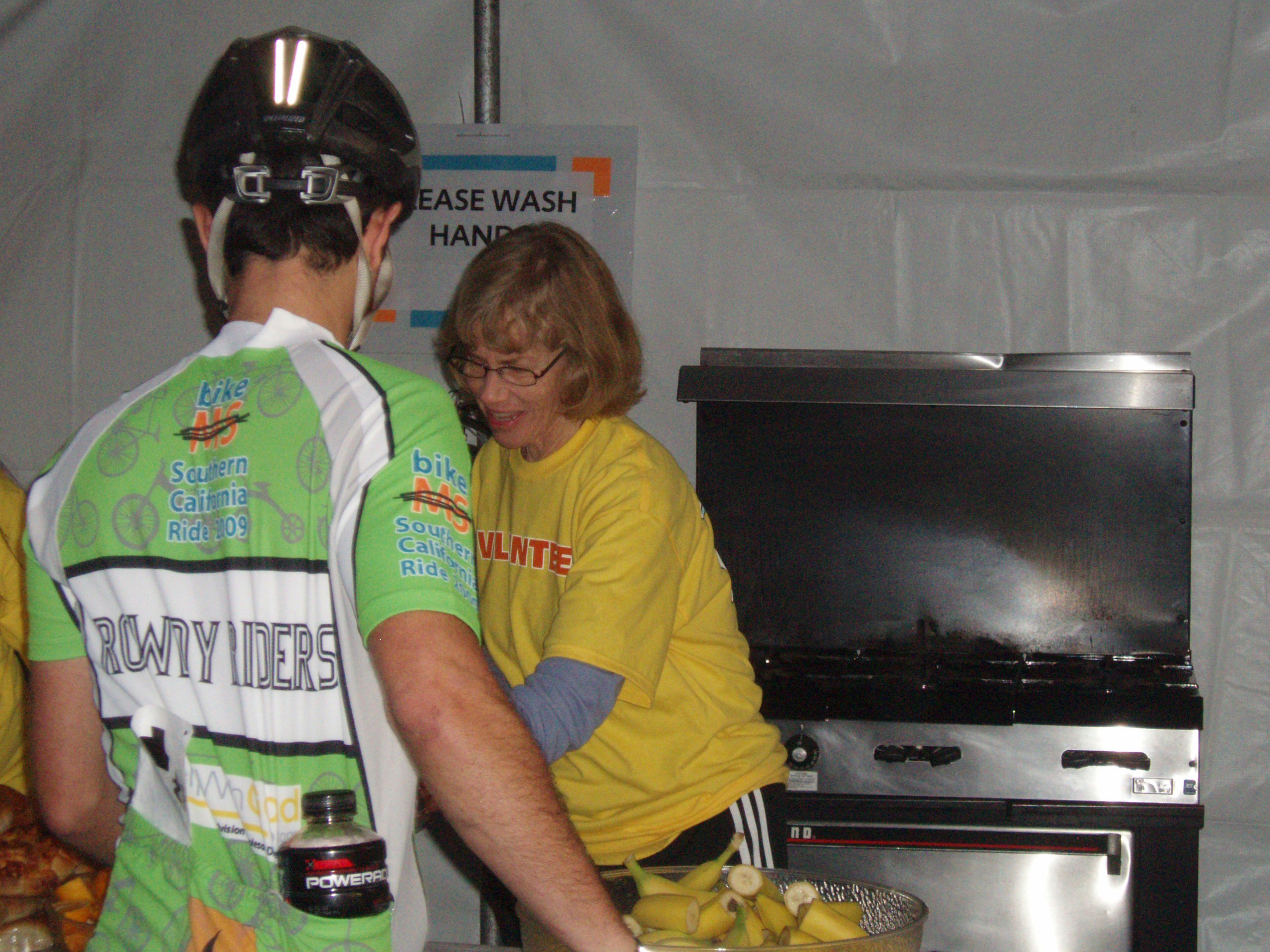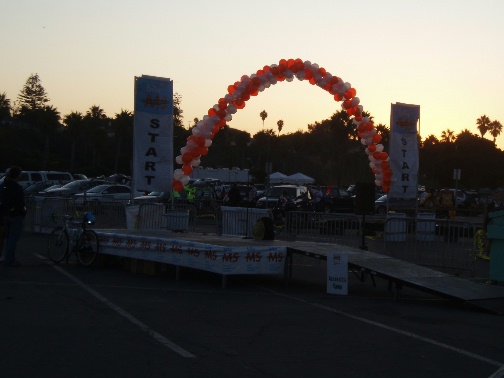 Mary and Jackie Mary serving breakfast 7:00 AM October 3rd


I started right at the start/finish line. I met a group of riders from Palmdale, the name of their group was Quest. There were many announcements before we started; one of them was from Chris Carmichael, Lance Armstrong's trainer. After that we were off. The sun was just rising over the mountains. It was the perfect beginning of a perfect ride.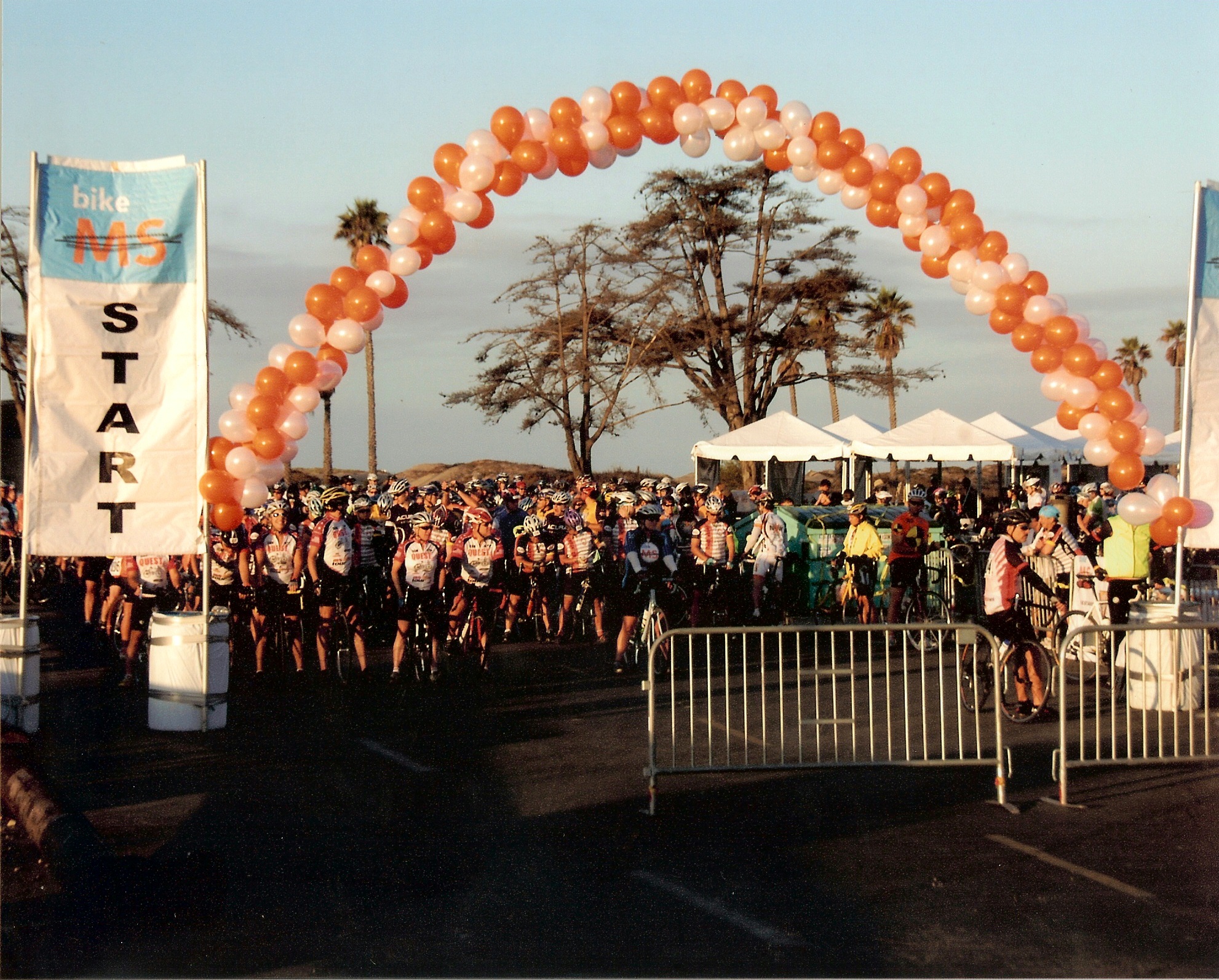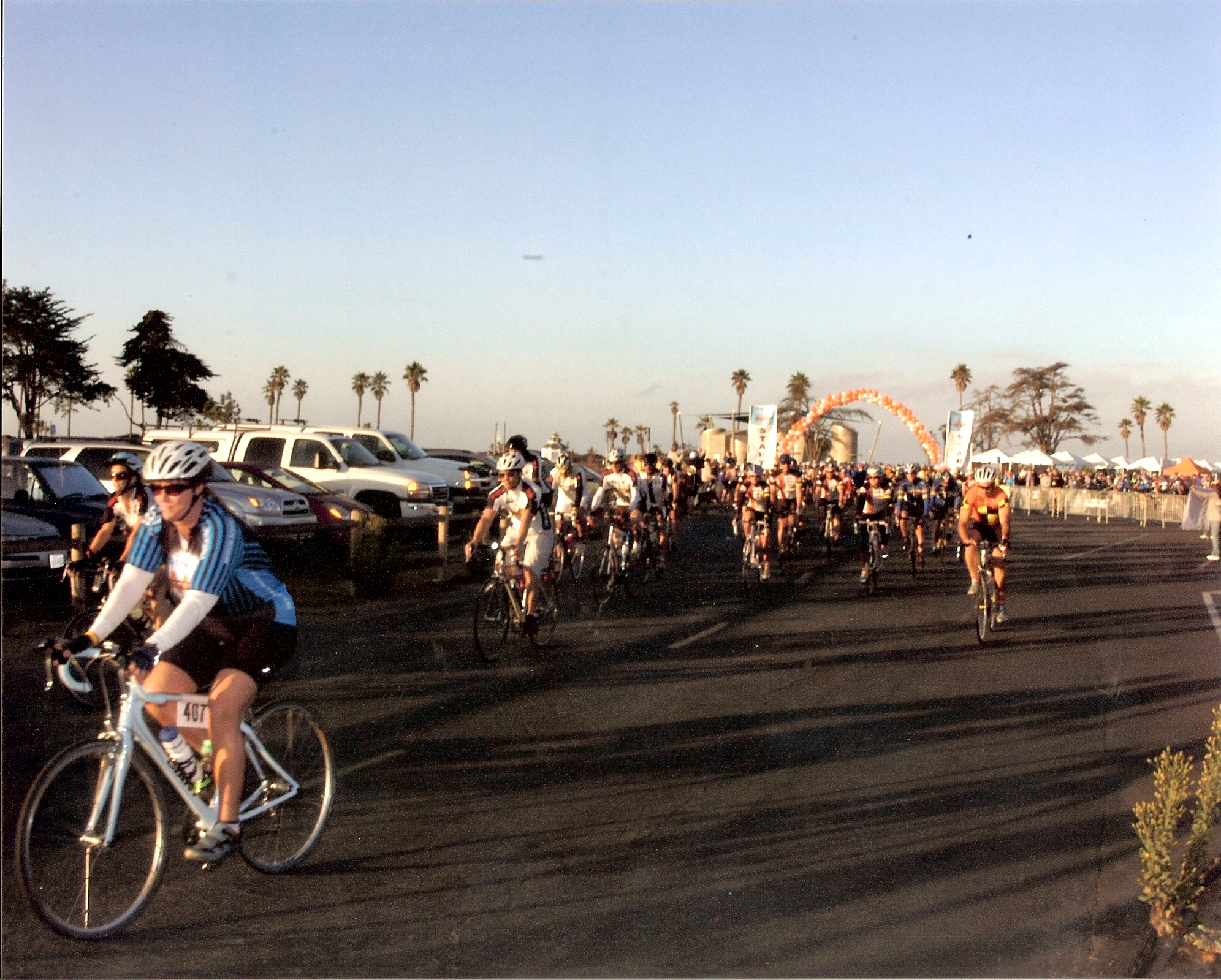 Starting line and start of the event:
We started in Ventura, and then it was off to Saticoy, then to Santa Paula for my first rest stop at about mile 20. I was feeling well. It was still cool so I kept my base layer (under shirt) on. Next was the climb into Ojai. During this time Chris Carmichael pulled up next to me and we had a chat. I told him that I was "Just happy to be here". He asked me where I was from and which ride I was doing. Then he was off with his groupies, didn't see him again until the next day.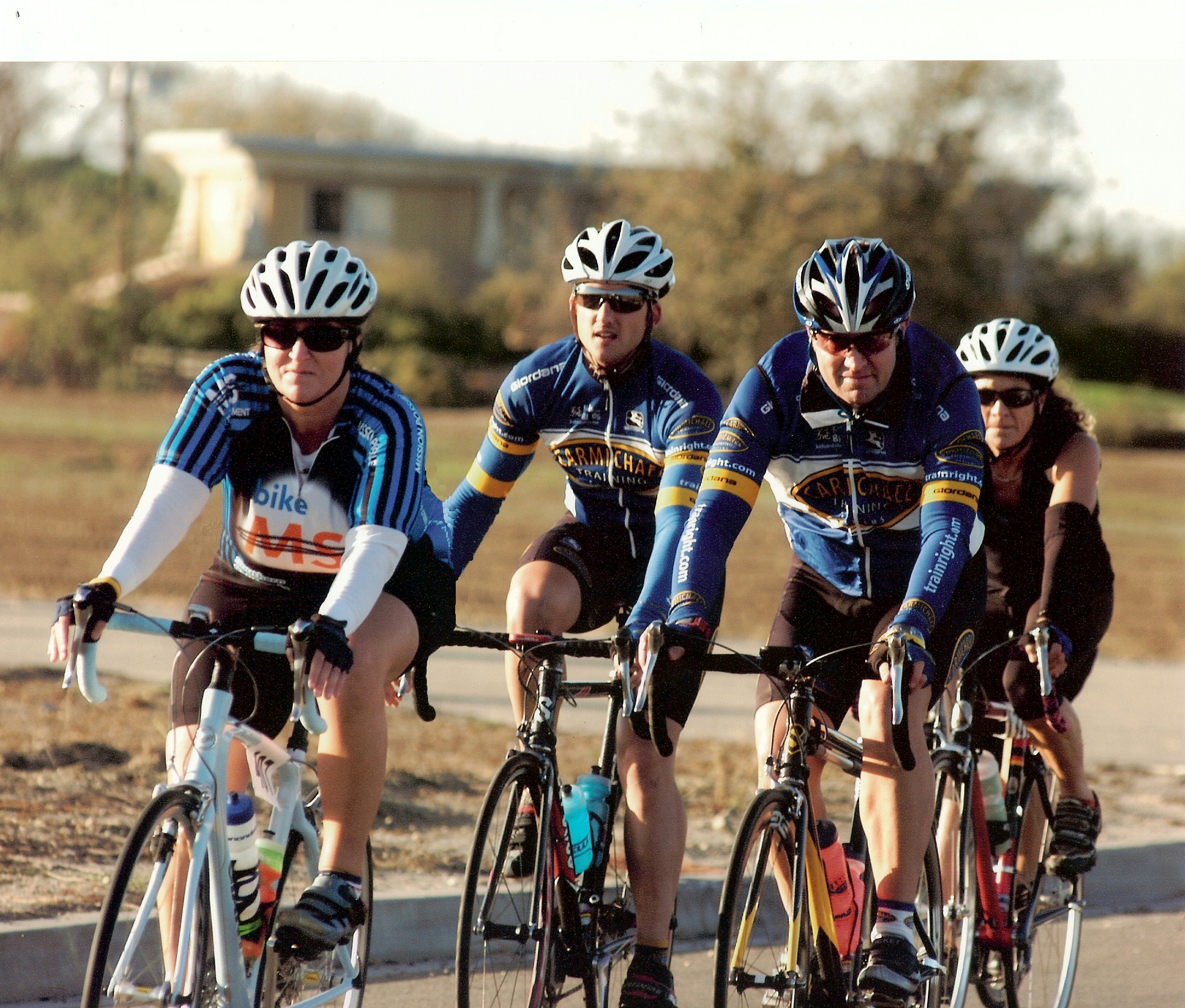 Jackie riding with Chris Carmichael (Lance Armstrongs training coach)
The climb into Ojai was beautiful, not too steep, just a nice steady climb. The decent into Ojai was fun, reminded me of the decent down Stunt. Next was the lunch stop in Ojai in Dennison Park. During the morning announcements they told us that the cut off time was 2:00 for the lunch stop, I made it at 10:30! It was warming up, so I took off my base layer. It was about 80 degrees, just perfect for riding. Had a peanut butter sandwich, banana, a powerade, my electrolyte pill and off I went.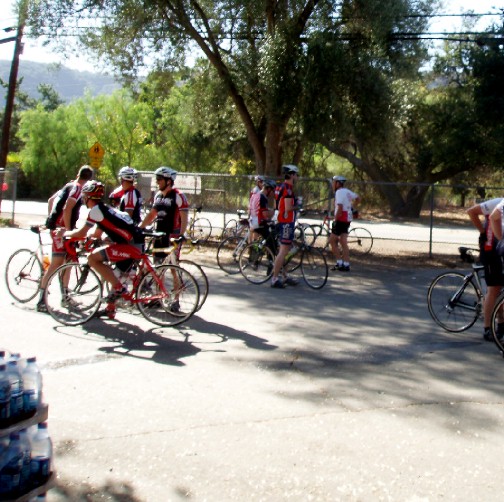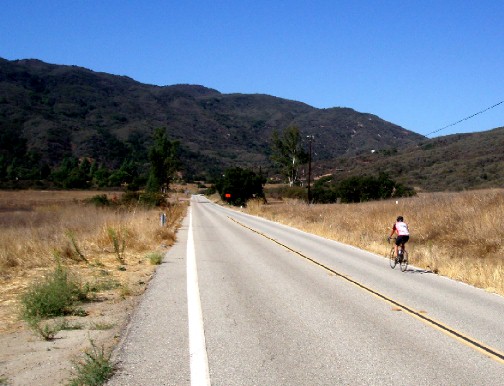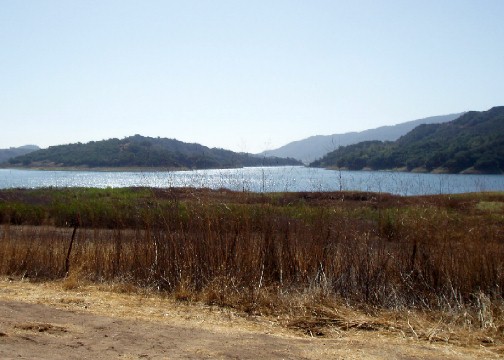 Ojai Summit Rest Stop Leaving Ojai Lake Casitas
The ride around Lake Casitas was beautiful. Climbing up Casitas Pass I met up with a local rider, he told me that the day before it was 100 degrees here, we really lucked out. He rode almost the entire climb with me, we chatted until his team caught up with us, after wishing me well, off he went. I soon reached the top of the climb, stopped for a gel and then descended into Carpentaria. I was alone until I hit the coast. I was glad to see the next rest stop, the Summerland post office.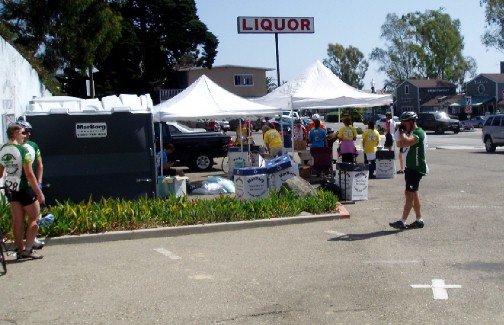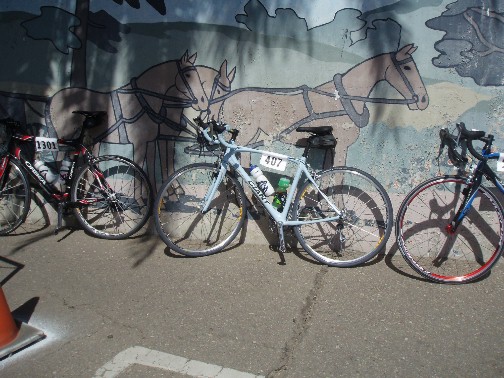 Summerland Post Office Rest Stop My bike # 407
It was here I met up with the Quest team again, and I tagged along with them. We did the loop around Montecito, which was more climbing than I expected, back behind Carpentaria, and then onto Highway 1. From that point on I was on my own doing 20 mph. Of course I stopped to enjoy the sights.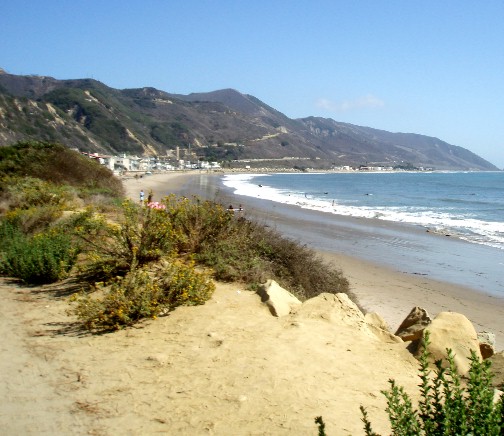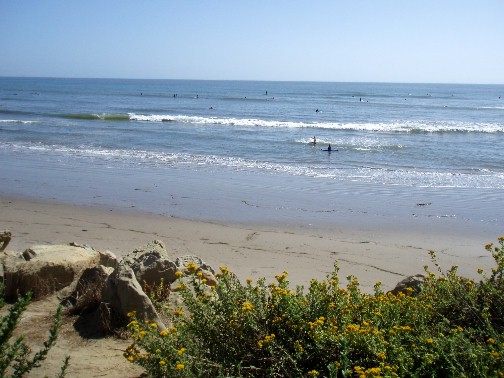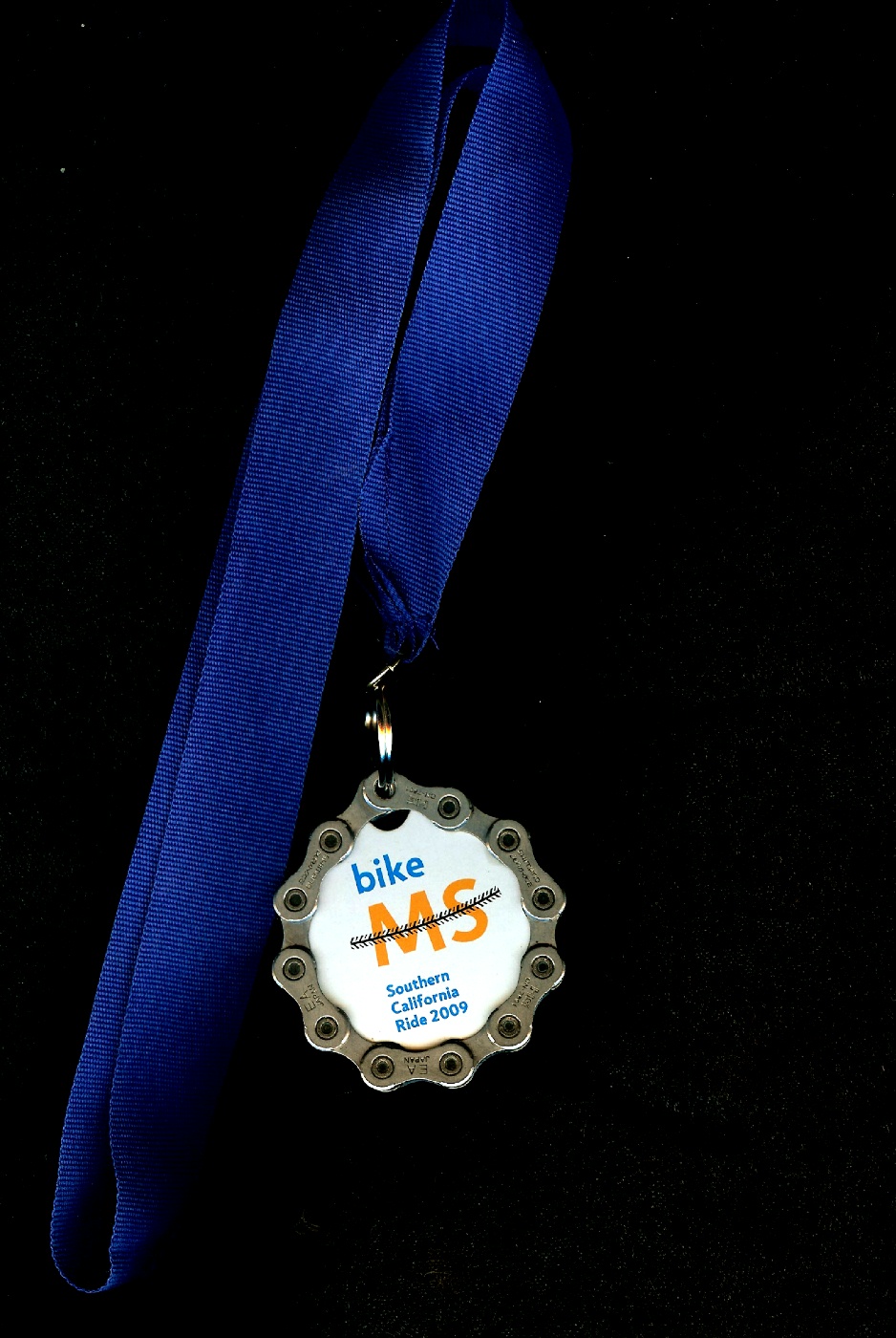 Pacific Coast Highway-north of Ventura - this is why I ride! MS Ride Metal
Back to the finish line! 100 miles done! The finish line was lined with people cheering. I got a metal placed around my neck..WOW..it was special. Mary was there waiting for me, we had a bite to eat. While putting my bike into my truck I looked at my time. My ride time was 6 hours 36 minutes…I was very pleased.
Day 2
My main goal was to do the 100 miles. I wasn't sure if I would do the next day. At midnight I informed Mike (my husband) that I was going to ride the next day. So at 5:00 AM, I was up… the moon was setting again over the beach as I arrived in Ventura. Another perfect day? There was only a couple dozen people here this morning, not like the 1700 yesterday. Very quiet.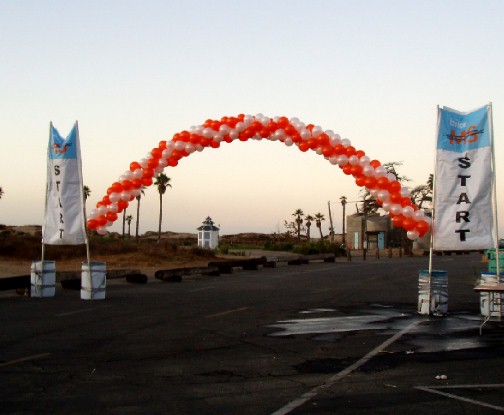 The ride started in the foothills behind Ventura, and went through some farm lands.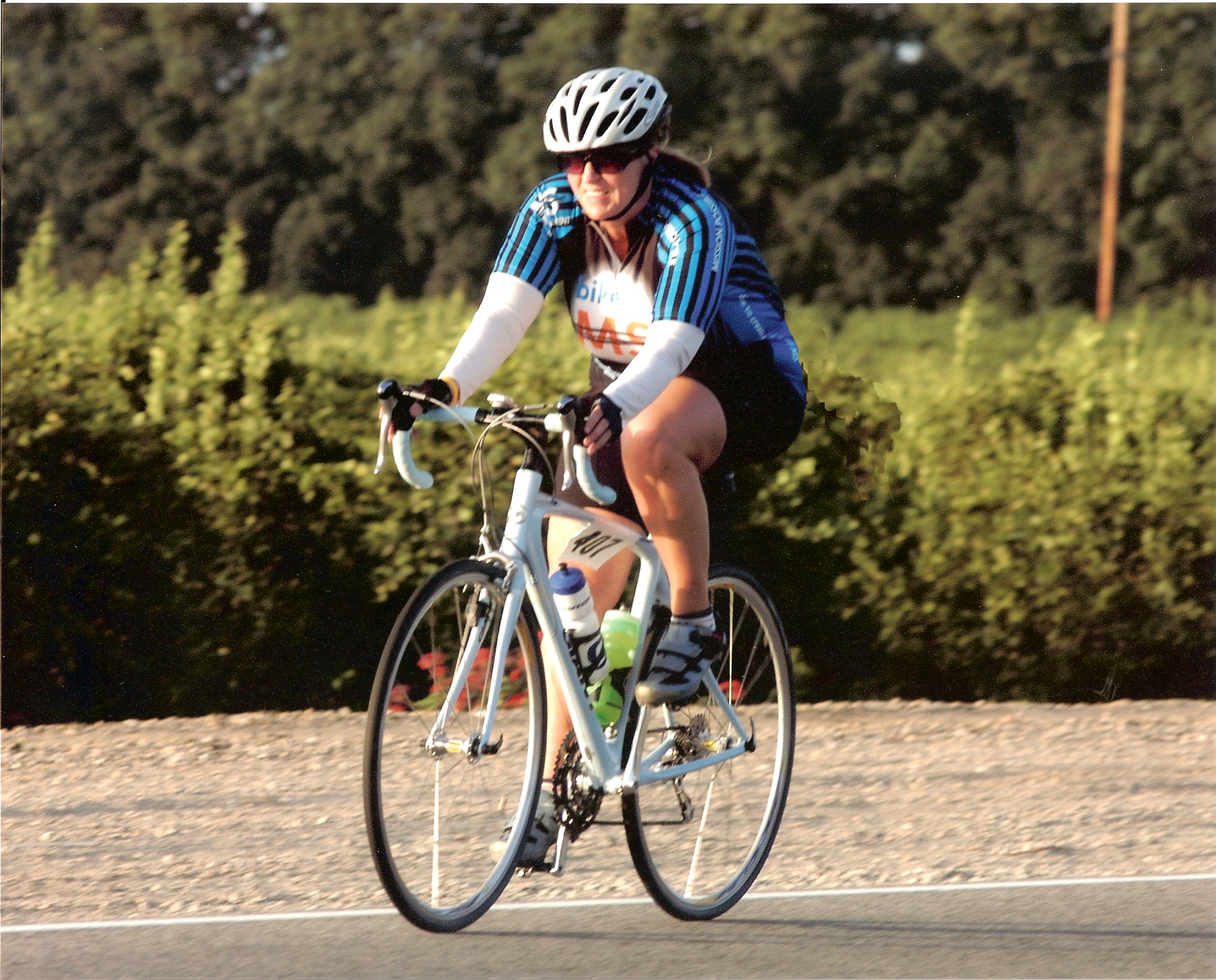 The first rest stop was only 9 miles into the ride, so I went onto the next stop. Again I was with the Quest team. At stop 2 in Camarillo, I contacted Mike to let him know I was doing the 60 mile ride and feeling good. Not a lot of cyclist on the road. It was another beautiful day.
We then got back into farmland, that is when the wind started to kick up…it got worse and worse.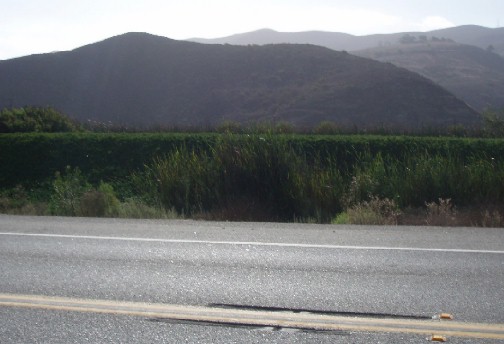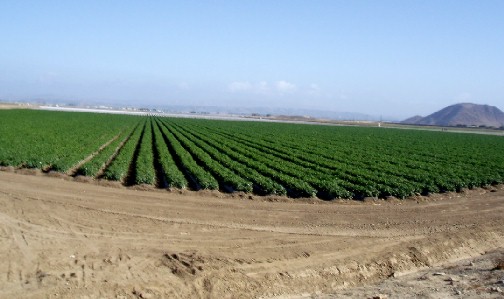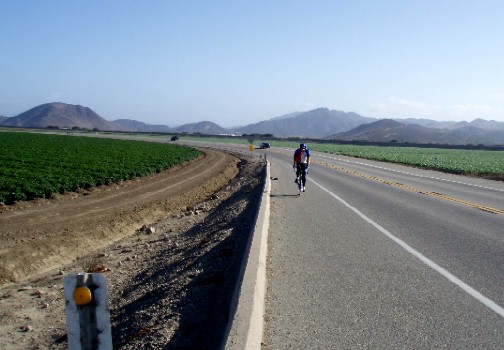 Foot Hills of Ventura Farmlands near Pt Mugu Farmlands near Pt Mugu
By rest stop #3 Missile Park at the Naval Air Base in
Pt. Mugu,
the wind was howling. It was at this stop that I saw Chris Carmichael again. I didn't get to speak to him. I left really working in the wind when a large group of 30 riders pasted me like I was standing still. I tried to get on the back but could not. I put my head back down and plowed through the wind.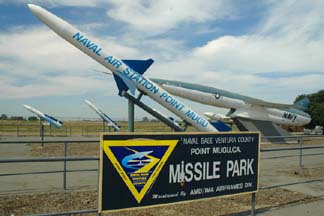 At Ponderosa Road the sign pointed right, so off I went. Yea! A tail wind! Two and a half miles after the turn, the motorcycle sag team stopped me. Apparently the wind blew the sign to the right. I was the unlucky one to make the turn before they caught it. Oh well, what's another 5 miles… so I plowed through the wind back 2 ½ miles to Los Posas and back into the wind to the coast. Rode through down town Oxnard, love the old town feel. I bypassed the last rest stop, I spotted a mini mart. I was tired of Gatorade, so I got an ice cold Coke instead!! Back into the wind. I caught a large group of ten thinking they could break the wind for me. This group was "squirrelly", they were lacking cycling skills, so I held back and let them pull away. No more than 5 minutes later they had a pileup between themselves. No one was hurt.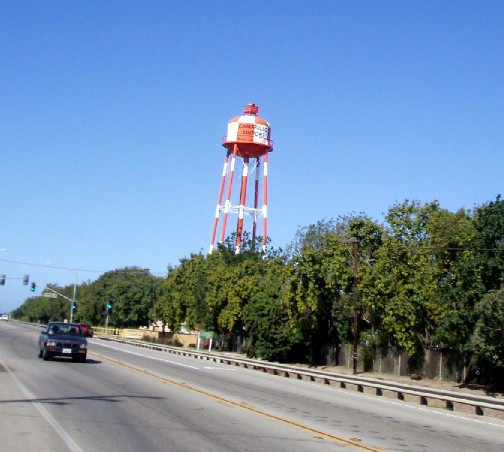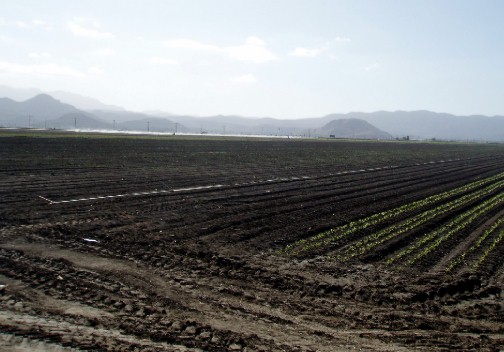 Off course in back of Airport Winds kicking up
5 minutes out from the finish I called Mike to let him know I would be into the finish in a couple of minutes. He let me know the girls were with him. I was so pleased to have my whole family there. At 12:30, 5 ½ hours from the time I started, I crossed the finish line. That flat 60 miles was harder than the 100 miles the day before. I was covered in grit and wind burned, but I was so pleased that I did it, the whole 160 miles plus the extra 5 miles. This was an adventure I took alone, meeting and talking to so many nice people, I am so glad I did this event!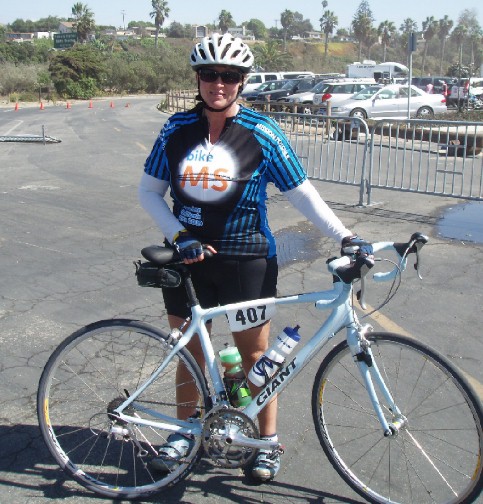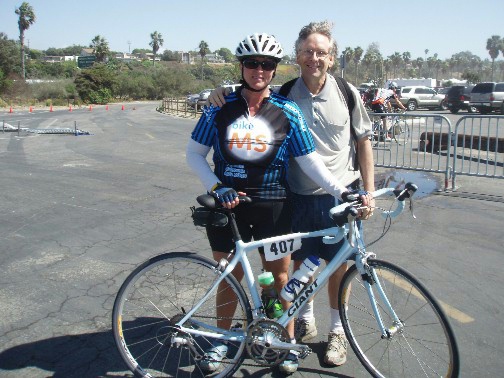 Jackie at the end of a 160+ mile adventure Jackie and Mike
Thank you! Will I do this again.???..you betcha!!!