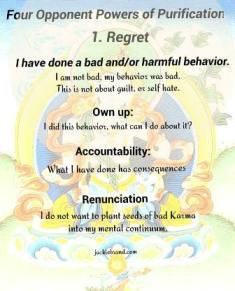 I was asked to write down how I have practiced the Four Opponent Powers of Purification. For 5 years I have practiced purification in this way. Before I start I take refuge in the 3 Jewels. Regret is very important, generate a sincere regret in your heart. It is not about guilt, there is no such thing as sin in Buddhism. Regret is said to have an affect on your karmic experiences.
Reliance is #2 of the Four Opponent Powers of Purification. Many explain this as looking at Buddha like a doctor, the Dharma is the medicine and the Sangha as nurses.Recently I have started using Vajrasattva visualizations with my purification practice. After I take refuge, I then turn to this Bodhisattva. You generate bodichitta for all living beings, being thankful for the teachings. It is said that reliance help with th karmic imprints for the environment in which you live.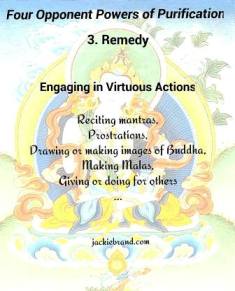 Number 3 of the Four Opponent Powers of Purification. Personally for remedy I recite the mantra "Om Benza Satto Hum" (Tibetan) or "Om Vajrasatto Sarwa Siddhi Hum" (Sanscript) 108 times (one time around th mala), I have also made malas, and I am currently working on a cross stitch of White Tara. It is said that Remedy helps to purify the Karmic imprints for rebirth.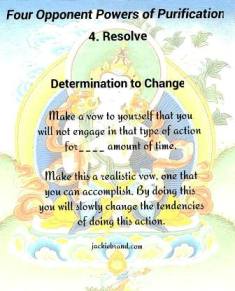 4 of the Four Opponent Powers. Resolve or the promise.By vowing not to do this action(s) you will help in breaking the tendencies in doing these type of actions which will break the karmic cycle. It is important to give a time limit that you can keep, even if it is for short time. You should end with a dedication, example: "Though the virtuous practice of purification, may all living beings, including myself, be completely freed from negative karma" It is recomended that is be a daily practice. Personally I do this with my evening meditation.